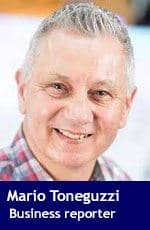 Early signs of economic improvement were seen across the board in the second quarter in Alberta, but lower growth in oil production and dampened confidence have TD Economics estimating a "still-cautious" 0.7 per cent growth in the province in 2019.
In its quarterly Provincial Economic Forecast, which was released Thursday, TD said the province can expect growth of 1.7 per cent in 2020 and 1.9 per cent in 2021.
"Alberta's economy is unfolding broadly as we had expected in our previous forecast in June. Business and consumer confidence have improved from the early-year lows, suggesting that the worst is in the rear-view mirror. However, with the improvement only modest in scope, the province's economy is set to essentially tread water this year. Our 2020 growth forecast has been modestly downgraded to 1.7 per cent in light of the recently-announced extension of the province's oil output curtailment plan into next year," said the report.
"Mandatory output curtailment in the oil patch has led to a sustained improvement in heavy oil prices, with the WCS-WTI spread projected to hold at relatively narrow levels through next year. Benchmark WTI prices are also expected to keep relatively stable at around US$55 to $60 per barrel in view of opposing risks – i.e., lacklustre global oil demand and worries of strong non-OPEC production on the downside and increased geo-political risk … following the recent attack on Saudi Arabia's largest oil processing facility on the upside.
"Despite improving heavy oil conditions, uncertainty still dominates the outlook for the energy sector, limiting next year's projected rebound in growth. Oil transportation capacity constraints remain unresolved, as major pipeline proposals continue to confront legal challenges. Oilfield support services and rig counts have remained under pressure in recent months, while the province has not recorded any meaningful growth in all-industry and oil-sector-specific capital spending since 2014."
The report forecasts employment growth in Alberta of 0.5 per cent this year, followed by 0.9 per cent next year and 1.6 per cent in 2021. It said the unemployment rate of 7.0 per cent this year will increase to 7.1 per cent next year and drop to 6.5 per cent in 2021.
"Conditions in the province's labour markets remain subdued. Net hiring has been positive but not sufficient to put a dent in the unemployment rate. In response, households have continued to keep a tight grip on their wallets. One bright spot is the recent upturn in provincial home sales, which has helped to bring Alberta's major markets into better balance. The recent return to positive net interprovincial migration flows, the upward trend in population growth … and reduced borrowing costs are likely to support continued improvements going forward."
The report forecasts housing starts of 26,700 units this year followed by 26,900 in 2020 and 29,800 in 2021. Existing home prices are expected to fall 2.1 per cent this year but rebound in positive territory at 1.4 per cent growth next year and 1.4 per cent the following year. Home sales are forecast to grow 1.4 per cent in 2019 followed by 11.1 per cent in 2020 and 6.6 per cent in 2021.
"Alberta's long-awaited budget is set to be released later this fall. In light of the government's commitment to both slay the deficit and lower corporate tax rates, significant spending restraint will be in store," added the TD report.
---

The views, opinions and positions expressed by columnists and contributors are the author's alone. They do not inherently or expressly reflect the views, opinions and/or positions of our publication.