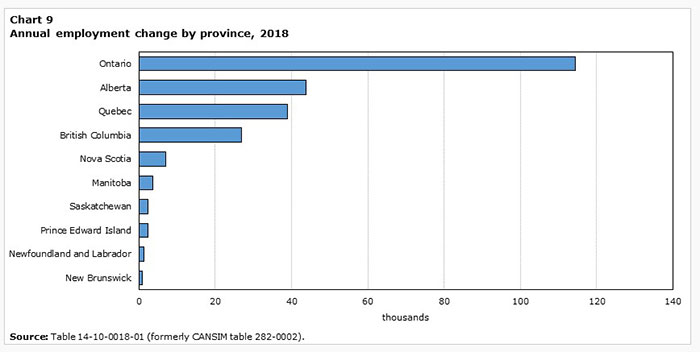 Total employment in Alberta in 2018 rose by 44,000 (+1.9 per cent), almost twice the increase recorded in 2017, says Statistics Canada in its Annual Review of the Labour Market, 2018 which was released on Tuesday.
The federal agency said over 40 per cent of the growth was driven by self-employment (+19,000).
"In 2018, the unemployment rate in Alberta decreased for a second year in a row, reaching an annual average of 6.6 per cent, down from a recent high of 8.1 per cent in 2016," explained the report.
"Labour market conditions in Alberta, Newfoundland and Labrador and Saskatchewan have been affected by declines in global oil prices since the fall of 2014. From the beginning of 2016 to the fall of 2018, oil prices partially recovered, with prices for West Texas Intermediate averaging about US$50 a barrel in December 2018. In November 2018, however, the Western Canadian Select, the price obtained by many Alberta oil producers, dropped abruptly, with the decline being partly attributable to a backlog of oil in Alberta."
StatsCan said payroll employment in Alberta grew in 2018 in many sectors, notably health care and social assistance, manufacturing, and educational services. However, these gains were tempered by declines in construction and retail trade. The number of payroll jobs in mining, quarrying, and oil and gas trended down over the course of the year, decreasing by 3.6 per cent between December 2017 and December 2018.
In 2018, the number of EI recipients declined by 25.7 per cent in Alberta, and the declines were broadly based within the province.  The job vacancy rate went from an average of 2.5 per cent in 2017 to 2.8 per cent in 2018.
Higher job vacancy rates tend to be associated with stronger economic activity, added StatsCan.
"The unemployment rate has traditionally been an important indicator of the health of the Canadian labour market. By this measure, 2018 was a strong year. Following a marked decrease the previous year, the annual unemployment rate in 2018 fell to an average of 5.8 per cent, down from 6.3 per cent in 2017, the lowest annual rate since the beginning of the current series in 1976," said the federal agency.
"The decrease in the unemployment rate was broadly based across demographic groups. In particular, the rate was down by 0.5 percentage points in each of the three major age groups (15 to 24, 25 to 54, and 55 and over) and fell by 0.7 points among men and by 0.3 points among women. The unemployment rate decline in 2018 was primarily the result of a 7.3 per cent (-91,000) decrease in the number of unemployed persons. Nearly 70 per cent of this decline was among men, particularly those aged 25 to 54."
– Mario Toneguzzi
---
The views, opinions and positions expressed by columnists and contributors are the author's alone. They do not inherently or expressly reflect the views, opinions and/or positions of our publication.