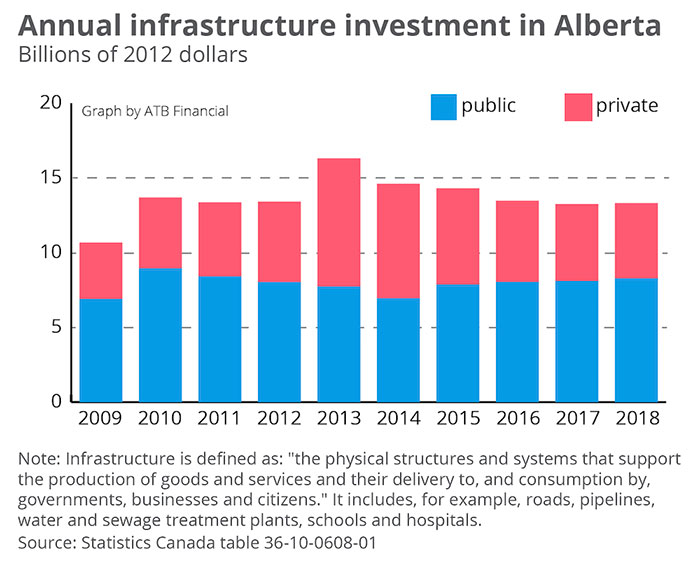 Spending on infrastructure is important to any jurisdiction's economy.
Infrastructure investment – both public and private – is a good indication of how an economy is performing. It also helps boost that economy through jobs and business spending.
ATB, in its The Owl daily economic update, says Alberta's stock of public and private infrastructure was valued at $143 billion in 2018, according to data from Statistics Canada. Of these roads, bridges, railway lines, water filtration plants, pipelines, schools and hospitals – among other things – 58 per cent was held by the public sector and 42 per cent by the private sector.
"Alberta's stock of infrastructure accounts for 17 per cent of Canada's national total, the value of which was $852 billion last year," says ATB.
Alberta's total population of 4.307 million people represents 11.6 per cent of the total Canadian population of 37.06 million.
"Using a constant point of reference, in this case we'll use 2012 dollars, we can make some comparisons over time. For example, when adjusted for inflation and population growth, Alberta's stock of infrastructure has gone from $21,541 per person in 2009 to $30,219 in 2019 — an increase of 40 per cent."
At the national level, ATB says the per capita value of infrastructure was much lower than in Alberta, at $20,618 per Canadian.
"Some of this difference is explained by variation in population density (e.g., a larger number of people sharing the same infrastructure) and some by the amount, age and quality of the infrastructure itself," it explains.
"On the same dollar scale, real annual investment in infrastructure in Alberta has increased by an average of 3.2 per cent since 2009 with total investment of $13.3 billion in 2018. Of this, 62 per cent was public spending and 38 per cent was private."
– Mario Toneguzzi
---
The views, opinions and positions expressed by columnists and contributors are the author's alone. They do not inherently or expressly reflect the views, opinions and/or positions of our publication.