Alberta led the country in 2018 with the number of new breweries launched, according to Beer Canada's Industry Trends report released on Monday.
The report said the number of licensed brewing facilities operating in Canada increased to 995 in 2018, more than double the number in operation just five years ago.
"Alberta led the way with 42 breweries added to its landscape last year alone. Ontario was the runner-up with 40 facilities that started up last year. The density of breweries was highest in New Brunswick, with eight brewing facilities for every 100,000 drinking age residents. The national average was 3.4 for every 100,000 drinking age residents," said the report.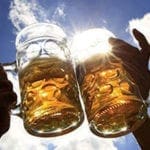 "The growth in breweries far outpaced the growth in domestic beer sales, which inched up just 0.3 per cent in 2018. Imported beer sales declined for the first time, down 3.4 per cent. The decline in imported beer sales resulted in the overall beer market contracting by 0.3 per cent. More brewers selling into a slightly smaller market translates into an intensely competitive environment for Canada's brewers."
The report said the consumer price index for beer saw store prices shift upward 1.9 per cent on average across Canada in 2018. Saskatchewan, home to some of the highest beer taxes in the country, saw the biggest climb in beer prices with its store-price index pushing up 5.3 per cent. Tax on beer makes up 47 per cent of the price on average in Canada. It's 51 per cent in Saskatchewan, said Beer Canada.
"Upward pressure on beer prices is expected to continue as a result of the federal government's annual excise escalator tax brought in under Budget 2017. The federal escalator tax has a knock-on effect – every annual increase drives up provincial beer markups and all sales taxes, making beer less and less affordable for the average beer drinker," said the report.
"The sale of beer supports 149,000 Canadian jobs, generates $14 billion in gross domestic product and $5.7 billion in government tax revenues. In 2018, Canada hit an all-time high in the number of breweries in operation, giving beer drinkers an unprecedented number of beers to choose from. It is an exciting and vibrant time for beer in Canada, but high taxes and flat growth make the beer market intensely competitive."   
– Mario Toneguzzi
---
The views, opinions and positions expressed by columnists and contributors are the author's alone. They do not inherently or expressly reflect the views, opinions and/or positions of our publication.