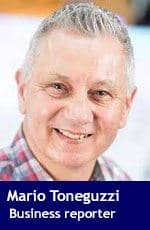 Manufacturing sales in Alberta were down 2.8 per cent in July to $6.3 billion, following a 7.0 per cent decrease in June, says Statistics Canada.
"In July, 15 of 21 manufacturing industries reported lower sales in Alberta, led by the petroleum and coal product industry (-5.0 per cent)," said the federal agency on Tuesday.
"Manufacturing sales in Edmonton were down 0.3 per cent to $3.3 billion on an unadjusted basis while sales in Calgary rose 4.5 per cent to $1.1 billion."
On a year-over-year basis, overall sales were down 5.7 per cent in Alberta.
Across Canada, manufacturing sales decreased 1.3 per cent to $57.2 billion in July, following a 1.4 per cent decline in June. Sales were down in 11 industries in July, representing 66.8 per cent of total manufacturing sales. The decline in July was mainly due to lower sales in the primary metal and motor vehicle industries. The food industry posted the largest gain. Manufacturing sales in constant dollars were down 1.6 per cent in July, indicating that a lower volume of manufacturing products was sold, said StatsCan.
Omar Abdelrahman, an economist with TD Economics, said the report was disappointing but "the outsized drop in volumes should be interpreted with caution."
"Some payback was to be expected after surges in June (primary metals), and there are also some temporary factors at play (maintenance in motor vehicle production plants). Nevertheless, manufacturing sales and economic activity in general look set to experience a slowdown in quarter three following a strong quarter two," he said.
"Looking ahead, the outlook for the manufacturing sector remains clouded by trade tensions and softening global growth. Indeed, manufacturing remains in contractionary territory in the Euro Area and particularly subdued in Asia. South of the border, the ISM manufacturing index recently fell below 50 for the first time in three years. If this trend continues, downside risk will linger for Canadian manufacturers and exporters. The recent dovish tilt by most central banks may provide a modest offset, but the sector remains susceptible to trade uncertainty and lacklustre business confidence."
---

The views, opinions and positions expressed by columnists and contributors are the author's alone. They do not inherently or expressly reflect the views, opinions and/or positions of our publication.