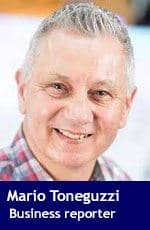 Small business confidence in Alberta took a nosedive in December and has deteriorated to the worst in the country.
The Business Barometer Index, released on Thursday by the Canadian Federation of Independent Business, found that business optimism in Alberta fell by 8.7 points from November to 45.1.
The index is measured on a scale of zero to 100. An index above 50 means owners expecting their business' performance to be stronger in the next year outnumber those expecting weaker performance. One normally sees an index level of 65 to 70 when the economy is growing at its potential, said the CFIB.
"Alberta small business confidence is rapidly deteriorating and less than half of business owners are confident about the future," said Amber Ruddy, CFIB director of provincial affairs in Alberta. "With tax and regulatory costs, fuel and energy bills, and wage pressures topping the list of concerns, there are ways governments can help create a business climate where entrepreneurs can thrive."
The report found 21 per cent of small, independent business owners in Alberta describe the health of their business as good. This compares to 50 per cent who describe it as satisfactory and 29 per cent who describe it as bad.
It also said 26 per cent expect their full-time employment level to go down (compared to 21 per cent last month) while nine per cent expect it to go up and 65 per cent expect no difference.
Nationally, the index fell 7.6 points to 53.6, a two-and-a-half year low.
"Concerns were most likely brought on by low export prices for domestic oil and fears of what that would mean throughout the supply chain. These prices are volatile and the worst of the effects may be transitory, but the cascading impacts of the 2014-16 price crunch and its broad impact on the economy is fresh in business owners' minds," said Ted Mallett, vice-president and chief economist at CFIB.
Across the country, the index numbers were: Prince Edward Island (67.9), New Brunswick (62.5), Quebec (61.8), British Columbia (60.1), Manitoba (59.4), Ontario (59.1), Nova Scotia (57.0), Saskatchewan (51.6), and Newfoundland and Labrador (48.4).
"This was a poor small business confidence report, made worse by the modest handoff and the fact that the index has been hovering sideways for most of the year. The broad-based declines across provinces and sectors aligns with the moderation narrative, but the weakening in hiring and capital expenditure plans may be a cause for concern," said Omar Abdelrahman, an economist with TD Economics.
"Providing some solace, however, is the fact that a large part of the slump can be attributable to commodity price uncertainty. The oil-heavy provinces (Alberta, Saskatchewan and Newfoundland and Labrador) remain the weakest amongst the provinces by a large margin, and are likely contributing to the index lagging its pre-2015 peaks.
"Last week's Business Outlook Survey release from the Bank of Canada provided a more optimistic picture of expenditure and hiring intentions, and this month's large slump in small business confidence and related indicators may prove partly transitory given recent oil price developments."
---

The views, opinions and positions expressed by columnists and contributors are the author's alone. They do not inherently or expressly reflect the views, opinions and/or positions of our publication.