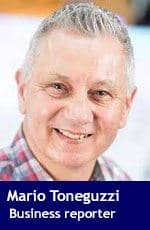 Calgary entrepreneur Paven Nijjar is on a mission to let people know that the auto glass industry is not only for men.
And the successful small business owner of Diamond Glass is proving that by her determination to grow her company in the marketplace.
Nijjar is no stranger to business success – she has also been a driving force in building the very prosperous Samosa Factory in the city.
"I don't know if it's just in Alberta but it seems to be a male-dominated industry," says Nijjar of the auto glass sector, adding that some people in the industry are very close-minded talking to women. "I don't know why."
"For me coming into this as a women, business is business. I don't think that changes the foundation of running a business. So for me, either I'm selling a windshield or if I'm selling a samosa, I'm still selling. That's what people overlook. I've been very successful at the Samosa Factory in the last 11 years. We've had growth at least 20 to 25 per cent every year over year. So I don't see why I can't do that with this business."
Nijjar was involved as a partner with Diamond Glass since 2015 and has been sole owner since last fall.
"I looked at it from a business perspective. I got into it at first because when I looked at the books it's lucrative and I wanted to diversify my portfolio and do something different. It also came with asset holdings. So I also bought two condo bays with it, plus the business, which was another plus for me on that side," says Nijjar.
"And I wanted something different that I could do on my own without my family being involved because in Samosa Factory there is family involved. This one is strictly just me. I make my own decisions. I do my own thing. Independence was another reason."
Diamond Glass is a full-service glass company for vehicle windshields, as well as commercial and residential glass. It offers a very quick turnaround time, she says.
"I just bought another condo unit (in southeast Calgary) up by VersaCold and Big Rock Brewery. I'm hoping to open that by the spring so I can definitely focus more in that area with the semis, the bigger trucks," adds Nijjar.
The family-owned Samosa Factory has two retail locations. The first opened in 2007 and the second was established in June 2018. The company also distributes its product as a wholesaler.
Nijjar says she would like to facilitate referrals for business with female entrepreneurs in Calgary .
"I think there's a lot of help that each of us can give each other there and nobody else does that," she says.
– Mario Toneguzzi for Calgary's Business
---

The views, opinions and positions expressed by columnists and contributors are the author's alone. They do not inherently or expressly reflect the views, opinions and/or positions of our publication.