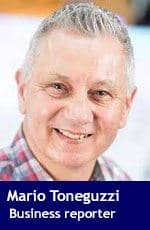 It was a tale of two cities in July between Calgary and Edmonton when it came to building permits.
A report released on Thursday by Statistic Canada indicated the value of building permits in the two major Alberta centres went in opposite directions for the month.
For the Calgary census metropolitan area, permit value reached $508.2 million for the month, which was up 13 per cent from June. But the Edmonton census metropolitan area experienced a decline of 22.3 per cent to $383.2 million.
On a year-over-year basis, building permits rose by 36.6 per cent in the Calgary region but were down 7.5 per cent in the Edmonton region.
Across the province, building permits of $1.2 billion in July fell by 4.1 per cent month over month but were still up eight per cent year over year. The residential sector reached permit value of $650.7 million, which was unchanged from June but down 1.3 per cent from July 2017. The non-residential sector in the province had building permit value of $514.9 million. That was off by 8.8 per cent from the previous month but an increase of 22.7 per cent from last year.
Across Canada, total building permit value was $8.2 billion, which was down 0.1 per cent month over month but up 0.4 per cent year over year.
The residential sector in Canada fell by 0.3 per cent from June to $5.3 billion. However, that remained a 4.8 per cent hike from a year ago.
The non-residential sector in Canada rose by 0.2 per cent month over month to $2.9 billion but that was off by 6.6 per cent from July 2017.
According to ATB Financial's latest economic outlook: "The economic boom that the province experienced between 2010 and 2014, and the subsequent recession from 2015 through 2016, caused a surplus of downtown office space that has since put downward pressure on commercial construction. Because of this overbuild it's expected that non-residential activity will be flat over the next two years. Residential construction is also expected to cool.
"Both Edmonton and Calgary show a rising number of new, but unsold, homes and stricter mortgage lending rules and rising borrowing rates have led to reduced sales activity and home prices. Because of this, home builders have begun scaling back.
"Between 2013 and 2014, Alberta built at a rate of over 100 new homes per 10,000 people annually. That was nearly double the national average as our province experienced rapid economic growth and massive inter-provincial migration. During the oil-price downturn and resulting recession, per capita housing starts in Alberta dropped dramatically and have remained just above the national average."
Mario Toneguzzi is a veteran Calgary-based journalist who worked for 35 years for the Calgary Herald, including 12 years as a senior business writer.
---

The views, opinions and positions expressed by columnists and contributors are the author's alone. They do not inherently or expressly reflect the views, opinions and/or positions of our publication.