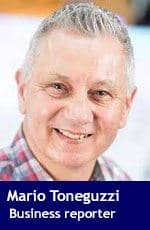 Here's a scary thought on the state of household finances in Canada.
A new report released on Tuesday by BMO said one-quarter of Canadians didn't save a penny in 2018 as Canadian household credit burdens keep creeping higher.
"The current environment is putting some pressure on Canadians' finances, making it more difficult for them to put a greater emphasis on regular saving," said Carola Corti, managing director of everyday banking at BMO Bank of Montreal, said in a statement.
According to BMO Economics, Canadian household credit burdens unexpectedly crept higher in the third quarter of 2018, with the key debt-to-disposable income ratio climbing to a near record high of 173.8 per cent.
Meanwhile, with interest rates on the rise, credit payments are now starting to take a chunky bite out of paycheques. The household debt service ratio (interest and principal as a share of disposable income) has jumped to 14.5 per cent, with 7.22 per cent of income being put toward interest payments – the most in seven years, said BMO, adding however that debt burdens are also alleviating, with household credit slowing.
"Household credit is now rising the least in 35 years, and with consumers expected to spend at the slowest rate in a decade in 2019 due to higher interest rates and tougher mortgage rules, the debt ratio should stabilize if not fall modestly," said Sal Guatieri, senior economist at BMO Capital Markets. "There's no better time to tighten the fiscal purse strings than when interest rates are on the rise."
The report also found:
15 per cent of Canadians saved more than $10,000;

52 per cent of  Canadians are optimistic in 2019 indicating that they are planning to save;

31 per cent plan to save up to $10,000;

12 per cent believe they will not be able to save anything this year;

36 per cent are unsure how much they can save;

29 per cent claim to have more than $100,000 saved; and

there are some barriers standing in the way of Canadians hitting their savings goals: 67 per cent of Canadians are stretching themselves too thin on expenses to be able to save; nearly half (45 per cent) are playing catch-up and paying down debt; and, for millennial Canadians, 37 per cent of them cite social pressures as a barrier towards being able to save.
The study also looked at how Canadians want to use their savings:
For Canadians who are looking to dip into savings this year, 47 per cent are looking to use their savings for a trip or vacation, nearly 20 per cent need the money for home renovations, and 15 per cent are saving for seasonal activities like holidays or birthdays.

For those who are trying to save for the longer term, 36 per cent have their eyes turned towards retirement although 32 per cent don't think they are saving enough. Another 36 per cent are setting money aside for an emergency fund but, similarly, close to 40 per cent feel it's not sufficient.

For Canadians who have taken on debt, 17 per cent are focused only on getting back to the black.
– Mario Toneguzzi for Calgary's Business
---

The views, opinions and positions expressed by columnists and contributors are the author's alone. They do not inherently or expressly reflect the views, opinions and/or positions of our publication.