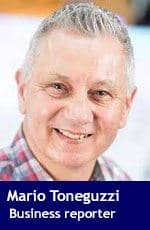 The amount of money Canadians donate to registered charities – as a share of their income – has plummeted 32.2 per cent since 2006, according to a new report released Thursday by the Fraser Institute, a public policy think-tank.
"Canadians continue to donate less and less every year, which means charities face greater challenges to help those in need this holiday season and throughout the year," said Jason Clemens, Fraser Institute executive vice-president.
The study, Generosity in Canada and the United States: The 2018 Generosity Index, found that only about one-in-five Canadian tax-filers (20.4 per cent) claimed charitable donations on their tax return in 2016, the latest year of available data, representing a decline of 16.9 per cent since 2006.
In the U.S., 24.8 per cent of Americans claimed donations on their tax returns in 2016.
"Americans continue to be far more generous than Canadians with charitable giving, and that has been true for many years," said Clemens.
The report said the total average amount of income donated by Canadians dropped from 0.78 per cent in 2006 to 0.53 per cent in 2016. Americans, by comparison, gave 1.46 per cent of their income in 2016 – nearly three times the percentage Canadians claimed.
"Notably, of the 15 least-generous jurisdictions in North America, 12 are Canadian. Manitoba, which ranks 42nd overall on this year's index of all 64 Canadian provinces, territories and U.S. states, is again the most generous Canadian jurisdiction. Utah remains the most generous jurisdiction overall.
"Prince Edward Island, Saskatchewan, Alberta and Ontario are tied for 50th, followed by British Columbia (54), Nova Scotia (55), New Brunswick (57), Newfoundland and Labrador and Quebec (tied at 59), Yukon (61), Northwest Territories (63) and Nunavut, which ranks last at 64th," said the report.
The general trend in recent years is that a declining percentage of Canadian tax filers are donating to charity and they are donating less as a percentage of income.
---

The views, opinions and positions expressed by columnists and contributors are the author's alone. They do not inherently or expressly reflect the views, opinions and/or positions of our publication.