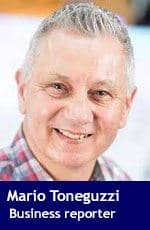 Wondering about a career change or trying to decide what career would be right for you?
Well, according to Randstad Canada, a staffing, recruitment and human resources company, jobs in the field of technology are driving the trend in emerging careers in the country.
"The roles in Randstad Canada's Emerging Jobs list positively reflect Canada's leadership in the AI space," said Carolyn Levy, president of technology at Randstad Canada. "Within the tech sector, this field is growing exponentially. Competition for talent is intense and at the same time, Canada is seen as an attractive destination for tech talent around the world."
Here are Randstad's top 10 emerging jobs in Canada:
blockchain developer;

automation engineer;

artificial intelligence researcher;

chief experience officer;

live chat agent;

devops engineer;

environmental engineer;

cyber security specialist;

data scientist;

3D architect.
"With unemployment at near record lows in most regions of the country and slow, steady economic growth, demand for talent crosses all sectors and skill levels – positive news for the nation's workforce," said Randstad.
"While the most in-demand jobs for 2019 cover a wide range of sectors and skill levels, three of the roles are in retail: sales associate, cashier and merchandiser. Positive news for an industry that's seen many chains close bricks and mortar stores in the past year."
"The most in-demand list is surprising for its breadth this year, with a solid mix of blue collar roles, like driver and welder, as well as professional roles and administrative roles, like project manager and accountant," added Levy. "This diversity is a sign the Canadian economy has weathered challenges reasonably well and no single sector is driving growth."
Randstad's 15 most in-demand jobs:
sales associate;

administrative assistant;

driver;

developer;

receptionist;

cashier;

general labourer;

project manager;

account manager;

welder;

accountant;

registered nurse;

electrical engineer;

HR manager;

merchandiser.
"Canadian employers face a highly competitive recruitment market," said Levy. "As a result, we see the employer's brand – what the organization represents, values and promises – emerging as a key factor in an organization's ability to attract and retain top-performing talent."
Calgary's Business is a Troy Media Digital Solutions Associate news site.
---

The views, opinions and positions expressed by columnists and contributors are the author's alone. They do not inherently or expressly reflect the views, opinions and/or positions of our publication.