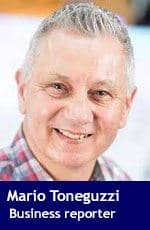 New home prices in the Edmonton region fell in November while they rose in the Calgary region, according to data released Thursday by Statistics Canada.
The federal agency said the New Housing Price Index was down 0.1 per cent from October in the Edmonton census metropolitan area but rose in the Calgary census metropolitan area by 0.2 per cent.
On an annual basis, prices fell by 1.2 per cent in Calgary and by 0.7 per cent in Edmonton.
Across Canada, new home builders in 18 of the 27 census metropolitan areas reported flat or decreasing prices in November.
"The largest declines were in Regina (-0.6 per cent) and St. John's (-0.4 per cent), with decreases in both CMAs linked to unfavourable market conditions," said the federal agency.
"Prices in Regina and St. John's have been down or flat for 10 out of 11 months in 2018. According to the Canada Mortgage and Housing Corporation, the inventory of newly completed and unsold single-family dwellings was up in both CMAs in November compared with the same month a year earlier. Single-family dwellings include row, single and semi-detached houses."
StatsCan said new home prices were down in the three CMAs surveyed in British Columbia. Lower selling prices were the primary reason for the 0.3 per cent decrease in Vancouver, while builders in Victoria and Kelowna (both down 0.1 per cent) tied the dip in prices to promotional offers to stimulate sales, it said, adding that the largest price increases in November were in Ottawa (+0.6 per cent) and Montréal (+0.4 per cent), with construction costs listed as the primary reason for the gain in both CMAs.
"Nationally, new house prices were unchanged year over year in November. Prices had been increasing each month on a year-over-year basis at the Canada level since January 2010," said Statistics Canada.
"For a sixth consecutive month, Ottawa (+4.9 per cent) and London (+3.6 per cent) registered the largest 12-month gains among the surveyed CMAs.
Among the eight CMAs reporting 12-month decreases in November, the largest decline was in Regina (-2.6 per cent). Toronto saw prices drop 1.3 per cent year over year in November. Annual price movements in this historically expensive CMA have been on the decline since April 2018."
---

The views, opinions and positions expressed by columnists and contributors are the author's alone. They do not inherently or expressly reflect the views, opinions and/or positions of our publication.