Imperial Oil saw net income in the first quarter of 2019 fall to an estimated $293 million compared with net income of $516 million for the same period in 2018.
In a news release on Friday, the company said its overall upstream gross oil-equivalent production averaged 388,000 barrels per day, up from 370,000 barrels per day in the first quarter of 2018, due to improved Syncrude reliability and the restart of the Norman Wells operation.
Gross production at Kearl averaged 180,000 barrels per day in the first quarter, consistent with the company's commitment to achieve full-year production of 200,000 barrels per day in 2019, it said, adding that the supplemental crusher project continues on schedule and is expected to be complete by year-end, increasing annual average production to 240,000 barrels per day in 2020.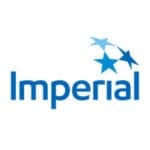 Imperial said refinery throughput averaged 383,000 barrels per day, compared to 408,000 barrels per day in the first quarter of 2018. Petroleum product sales averaged 477,000 barrels per day in the first quarter, essentially flat with the prior year. Downstream financial results were impacted by weaker industry product margins and lower refinery utilization.
"First quarter operational performance was impacted by challenges in both the upstream and downstream early in the quarter, in part due to extreme cold weather across the country. Furthermore, the Government of Alberta's production curtailment order significantly affected financial performance, as improved upstream realizations were more than offset by reduced downstream margins," said Rich Kruger, chairman, president and chief executive officer, in a statement.
"Alberta's mandated curtailment continues to impact crude-by-rail economics. After increasing crude-by-rail shipments to record levels in late 2018, the company discontinued shipments in February. Late in the quarter, the company resumed limited rail shipments, and will continue to evaluate future movements as economically justified."
Cash generated from operating activities was just over $1 billion, up from $985 million in the first quarter of 2018.
The company said capital and exploration expenditures totalled $529 million, compared with $274 million in the first quarter of 2018.
"During the quarter the company announced a slowdown in the development of the Aspen project given market uncertainty stemming from the Government of Alberta's intervention in crude markets and other industry competitiveness challenges. As a result, capital expenditures for 2019 are now expected to be in the range of $1.8 billion to $1.9 billion, down from the previous guidance of $2.3 billion to $2.4 billion," it said.
– Mario Toneguzzi for Calgary's Business
---
The views, opinions and positions expressed by columnists and contributors are the author's alone. They do not inherently or expressly reflect the views, opinions and/or positions of our publication.