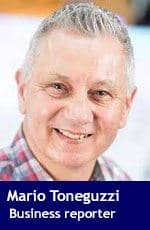 ATB Financial saw its operating revenue increase while net income decreased in its fiscal first quarter as the institution also contributed over $5 billion in new loans.
"We know that times have been tough for many Albertans and through it all we have been here, providing expert advice and much needed capital," said Curtis Stange, president and CEO of ATB Financial, in a news release.
"Just as we have been here for Albertans, ATB is here for our province, serving as a catalyst for economic growth — from supporting entrepreneurs and our energy industry to helping Albertans purchase a home and build wealth."
ATB's investment arm, ATB Wealth, had assets under administration of $20.7 billion, up over $1 billion from last year's first quarter.
"With our entrepreneur centres, our unwavering support for the energy industry and our investment in new and varied industries, ATB is well-equipped to support Albertans now and in the future," said Stange. "We will be where our customers need us, whether that be online as we invest in our digital offerings or in the more than 100 communities where ATB is the only local financial institution."
Operating revenue of $433.9 million increase by 5.3 per cent from last year while net income of $45.8 million fell by 20.1 per cent.
Deposits of $36.1 billion were up 4.8 per cent while loans of $46.5 billion rose 3.1 per cent.
At the end of the first quarter, total assets of $54.2 billion, an increase of 1.6 per cent.
ATB said some highlights of the quarter included:
a commitment of $250,000 to support agriculture technology, research and education through Olds College's high-tech Smart Farm;
ATB's Financial Legacy Fund partnership with Ducks Unlimited's Revolving Land Conservation Program;
reaching a milestone in its Teddy for a Toonie campaign raising $10 million for Alberta children's health care over the past 20 years;
ATB's entrepreneur centre in Grande Prairie celebrated one year;
ATB partnered with the Prostate Cancer Centre to bring the fifth annual ATB Man Van tour to 11 destinations across the province, including two First Nations; there were a total of 12 clinics and for the first time, along with the PSA blood test for men aged 40 to 80 years, the Man Van offered a quick mental health check;
After a trial in Calgary, the ATB X business accelerator program made its debut in Edmonton and online. ATB is now positioned to serve even more entrepreneurs through this innovative program.
---

The views, opinions and positions expressed by columnists and contributors are the author's alone. They do not inherently or expressly reflect the views, opinions and/or positions of our publication.