Alberta Premier Jason Kenney is in Texas this week hoping to spur energy investment in the province.
His trip comes about a week after the release of a report by public policy think-tank Fraser Institute showing that Texas is more than two times as attractive as Alberta for oil and gas investment.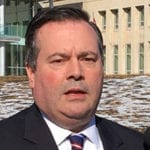 "Our top goal is getting Alberta back to work," Kenney said in a statement. "That means restoring investor confidence and reversing the flow of money, ideas and businesses from Alberta to places like Texas."
The premier says he's keeping his commitment to Albertans to take the 'Open for Business' message to some of the world's biggest job creators.
"This trip will allow me to raise awareness among prospective investors about our growth strategy, including the Job Creation Tax Cut, Red Tape Reduction, and recent decisions like special production allowances to permit more Alberta energy to reach U.S. markets."
Kenney is scheduled to speak with investors and business leaders in Houston and Dallas.
The Alberta government said Kenney will highlight how the province has laid the foundation as a more competitive place for energy sector investments by:
Reducing the corporate tax rate and cutting red tape from government processes.

Introducing enhanced capital cost allowances.

Providing certainty to the oil and gas royalty structure.

Confirming its $1.1-billion commitment to the Petrochemicals Diversification Program.
Texas is Alberta's second largest export market overall. In 2018, Alberta's exports to Texas totalled $11.5 billion worth of goods. 
In the Fraser Institute's ranking of 20 North American jurisdictions, which included 15 U.S. states and five Canadian provinces, Texas came out on top with Alberta ranked 16th. The survey was of petroleum sector executives.
"Canada's onerous and uncertain regulations, along with our dearth of pipeline capacity has created a competitiveness chasm between Canada and the United States – particularly between Alberta and Texas," said Ashley Stedman, senior policy analyst at the Fraser Institute and co-author of the Canada-US Energy Sector Competitiveness Survey.
The report said that 80 per cent of survey respondents cited uncertain environmental regulations as a deterrent to investing in Alberta compared to only nine per cent for Texas. Also, 65 per cent of respondents identified regulatory duplication and inconsistencies as a deterrent to investing in Alberta compared to eight per cent for Texas, said the Fraser Institute.
Mario Toneguzzi is a business reporter in Calgary.
---
The views, opinions and positions expressed by columnists and contributors are the author's alone. They do not inherently or expressly reflect the views, opinions and/or positions of our publication.