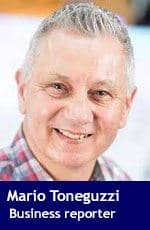 Retail sales in Alberta rose in July for the first time in three months, increasing by 0.7 per cent to $6.8 billion, Statistics Canada said in a release on Friday.
The federal agency said the hike in the province was a "result of higher sales at motor vehicle and parts dealers."
But on an annual basis, sales were still off by 0.5 per cent.
Nationally, sales in the retail trade sector advanced for the first time in three months as well, increasing 0.4 per cent in July to $51.5 billion.
"Higher sales were reported in six of 11 subsectors representing 71 per cent of retail trade. After removing the effects of price changes, retail sales in volume terms were essentially unchanged in July," said StatsCan.
On a year-over-year basis, sales across the country rose by 1.2 per cent.
"Sales at motor vehicle and parts dealers advanced 1.5 per cent in July, their largest increase since February. The increase stemmed from higher sales at new car dealers (+2.4 per cent), which more than offset lower sales at automotive parts, accessories and tire stores (-2.4 per cent), other motor vehicle dealers (-2.3 per cent) and used car dealers (-1.0 per cent)," said Statistics Canada.
"Rising for the fifth time in six months, sales at both health and personal care stores (+2.6 per cent) and food and beverage stores (+0.6 per cent) were up in July. In the food and beverage stores subsector, higher receipts at supermarkets and other grocery stores (+0.9 per cent) led the gain."
It said sales at cannabis stores exceeded $100 million for the first time. Gains at cannabis stores occurred across all provinces, with double-digit growth reported in eight provinces. Throughout July, there were over 300 cannabis stores in operation across Canada, a number that has more than doubled since legalization in October 2018, it added.
StatsCan said retail e-commerce sales were $1.8 billion in July, accounting for 3.2 per cent of total retail trade.
"July isn't shaping up to be a great month for the Canadian economy, with a modestly disappointing retail report joining earlier data on manufacturing in painting a less bright picture for the start of the third quarter. Sales were up 0.4 per cent in total, but that all reflected price gains, as in volume terms sales were only flat from the prior month," wrote CIBC economist Avery Shenfeld in a commentary note.
"Auto sales were strong, and price hikes boosted gas station sales, but elsewhere sales were down 0.1 per cent. This extends a trend of lacklustre results for retailers, since volumes have seen no growth over the past 12 months. That leaves the Canadian economy more dependent on trade and capital spending, with both seen as vulnerable to a global slowdown. Downside risks to quarter three and second-half growth are why we see a Bank of Canada rate cut as likely by December."
Mario Toneguzzi is a Troy Media business reporter based in Calgary.
---

The views, opinions and positions expressed by columnists and contributors are the author's alone. They do not inherently or expressly reflect the views, opinions and/or positions of our publication.