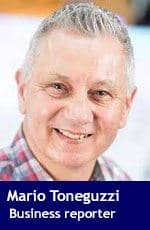 A Calgary-based company is promoting a workplace safety campaign  in response to cannabis legalization, which comes into effect on Oct. 17.
The Cannabis Learning Series, a workplace safety education initiative, is urging employers to focus on prevention and awareness in the midst of uncertainty from cannabis legalization.
"With the legalization of recreational cannabis getting closer, it's shedding more light than ever on the issue of workplace impairment," said Jeff Bradshaw, president of CLS.
"Cannabis consumption is obviously a major concern, but employers have to emphasize cannabis without forgetting about other forms of impairment, like fatigue, stress, and other drugs and alcohol. A Fit for Duty prevention and awareness campaign is a simple, proactive measure employers can and should take.  It will impact workplace safety and can even minimize corporate risk.
"At the end of the day, safety of workers and the public is always paramount. We want to encourage anyone in a safety leadership role to actively promote the need for all employees to be Fit For Duty at all times."
CLS said the goal of the initiative is to have safety leaders take the Fit For Duty Pledge through a newly-minted microsite that promotes the ever-increasing importance that workers be fit for duty. The microsite is a resource for education.
"With the legalization of recreational cannabis on Oct. 17, 2018, it is speculated that employers across Canada will be faced with an increase in impairment related issues in the workplace. And so, the importance of proactive training, as well as prevention and awareness communications is critical to help minimize incidents and risk," added CLS.
"In the microsite there is a key content aimed at arming organizations with simple tools to promote campaigns of their own. By taking the Fit For Duty Pledge companies have free access to use the Fit For Duty logo in their own safety messaging.  The site also contains infographics, videos, articles, and other support material designed to be easily used by companies across Canada."
Mario Toneguzzi is a veteran Calgary-based journalist who worked for 35 years for the Calgary Herald, including 12 years as a senior business writer.
---

The views, opinions and positions expressed by columnists and contributors are the author's alone. They do not inherently or expressly reflect the views, opinions and/or positions of our publication.