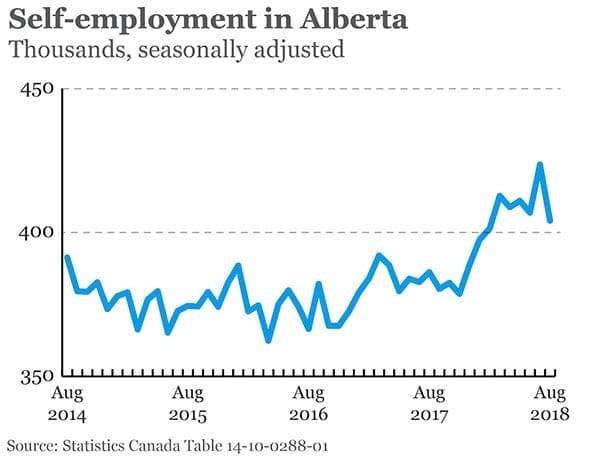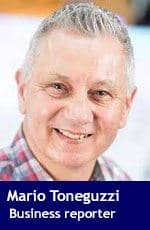 With thousands of people laid off in Alberta in recent years due to a punishing recession, it's not surprising to hear that self-employment has risen in the province.
A report by ATB Financial's Economics and Research Team says self-employed Albertans represent 17 per cent of all workers in the province and this sector of the labour force has been growing in the past year.
"We have to be careful not to read too much into the month-to-month fluctuations in self-employment numbers – there is a large margin of statistical error. We can, however, be relatively confident in longer-term trends," says a recent report by ATB.
"The average number of Albertans who say their main job takes the form of self-employment is, thus far, about six per cent higher in 2018 than it was in 2017. The average number of employees in the first eight months of the year went up by less than one per cent compared to last year.
"Ideally, this relatively strong growth in self-employment would offer us a wealth of insight into the province's labour market and the Alberta economy in general. Unfortunately, the opposite is true. While it can be argued as a good sign that more Albertans are confident enough to give self-employment a try, it can also be argued that it suggests a more challenging job market is forcing people to take on more 'precarious' work.
"Whatever the reason, the uptick in self-employment is arguably a much better sign than an overall decrease in jobs, whether people are working for themselves or someone else."
In August, Alberta's seasonally-adjusted unemployment rate was 6.7 per cent. That was unchanged from the previous month and down 1.4 percentage points from the same month last year.
According to the Alberta government, the rate was tied with Saskatchewan for the fifth highest in Canada, behind New Brunswick's 8.3 per cent, Nova Scotia's 8.4 per cent, Prince Edward Island's 9.3 per cent, and Newfoundland and Labrador's 14.4 per cent.
The national rate was 6.0 per cent.
"The unemployment rate remained unchanged because the labour force increased by 16,900 and employment increased by 16,200 people from the previous month," said the province. "Full-time employment increased by 11,000 and part-time employment increased by 5,300 over the same period. Between August 2017 and August 2018, full time employment increased by 38,300, and overall employment increased by 53,200. The number of unemployed Albertans decreased by 33,500 over the same period.
"Year over year, employment gains have been led by private sector employment at 24,300. Employment in the public sector increased by 11,100 while self-employment increased by 17,900 over the same period.
"The following industries had the most employment decreases in August 2018 from the previous month: forestry, fishing, mining, oil and gas, 2,100; information, culture and recreation, 1,200; and public administration, 900," the province reported.
"The industries with the most employment increases were: business, building and other support services, 6,300; professional, scientific and technical services, 4,700; and construction, 2,600 over the same period."
Mario Toneguzzi is a veteran Calgary-based journalist who worked for 35 years for the Calgary Herald, including 12 years as a senior business writer.
---

The views, opinions and positions expressed by columnists and contributors are the author's alone. They do not inherently or expressly reflect the views, opinions and/or positions of our publication.