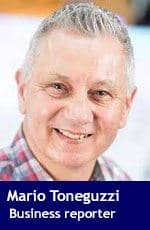 Greengate Power Corp. says it has received approval from the Alberta Utilities Commission to build and operate its Travers Solar project, which it says will be the largest operating solar energy project in Canada and one of the largest in the world.
The project in Vulcan County – situated southeast of Calgary – is expected to begin construction in 2020 with full commercial operations targeted for 2021.
"We are very pleased to have received approval for what we expect will be Canada's largest solar energy project and one of the largest in the world," said Dan Balaban, president and CEO of Greengate, in a news release.
"This continues our successful track record, having already developed some of the largest renewable energy projects in the country. We anticipate that Travers Solar will bring significant investment, employment and clean renewable energy to Alberta while strengthening the province's position as a global energy and environmental leader."
Total investment in the project is about $500 million.
Greengate said the project will have a total generating capacity of 400 MWac and will operate for more than 35 years.
"The AUC conducted an extensive review of the project and found that its approval is in the public interest considering its social, economic and environmental effects," said Greengate.
"Travers Solar is expected to provide substantial economic and environmental benefits and supply a clean and emissions-free source of electricity for more than 100,000 homes. The project is also anticipated to be one of Alberta's largest producers of environmental attributes for compliance by large emitters under Alberta's Technology Innovation and Emissions Reduction (TIER) program."
Greengate is a privately-held renewable energy company based in Calgary. Since 2007, it has developed close to 600 MW of operating or near operating wind energy projects in Alberta and Ontario, including the 300-MW Blackspring Ridge Wind Project, which is currently the largest operating wind energy project in Canada. These projects represent well over $1 billion of investment and provide a clean source of power to more than 250,000 homes, the company says.
Greengate is pursuing the development of close to 1,000 MW of new solar and wind energy projects.
Mario Toneguzzi is a Troy Media business reporter based in Calgary.
---

The views, opinions and positions expressed by columnists and contributors are the author's alone. They do not inherently or expressly reflect the views, opinions and/or positions of our publication.