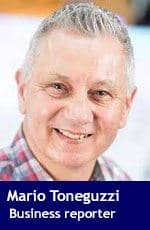 Calgary-based Boardwalk Real Estate Investment Trust had what it calls a "solid' second quarter with gains in rental revenue as well as average occupancy and average monthly rents throughout its portfolio.
"The positive revenue trend that began approximately nine months ago from improved occupancy and higher rents as a result of our front-loaded investment in suite and common area renovations continue to have a positive compounding effect and has resulted in significant growth this quarter," said Sam Kolias, chairman and chief executive officer of Boardwalk REIT, as the company reported its financial results on Monday.
"With the rental market in Alberta reaching a level of balance, we continue to focus on executing on our revenue growth strategy, and are in the early stages of this significant opportunity."
The results include:
same store rental revenue of $106.8 million, up 3.7 per cent from last year;

total rental revenue of $108.4 million, up 2.7 per cent;

net operating income of $59.1 million, an increase of 8.6 per cent;

profit of $56.8 million, a decline of 10.5 per cent;

funds from operations of $30.6 million, up 11.2 per cent;

adjusted funds from operations of $24.9 million, up 16.5 per cent;

average occupancy of 96.49 per cent, up from 94.37 per cent in December 2017;

average monthly rent of $1,076, up from $1,048 in December 2017.
Kolias said incentives began trending downwards in each of the company's Alberta markets earlier this year as it entered the spring turnover season.

"Many of our communities which were offering significant incentives this time last year, are now being leased with limited to no incentives. The compounding impact of incentive reductions will further our recovery and growth," he said.
"The demand for our renovated product in each of our three brands remains strong. We continue to improve both our cost and delivery of renovated units, and are better balancing renovations with vacancy. We have increased our investment in lobbies and common areas, and to date, have seen strong returns in occupancy, tenant retention, and increasing net rental rates.
"Boardwalk has evolved through the downturn we experienced a year ago. We are now positioned to offer a wider range of homes from affordability in our Living brand, enhanced value in our Communities brand, and luxury in our Lifestyle brand."
At the end of the quarter, Boardwalk had 32,761 rental units in Edmonton, Calgary, Red Deer, Grande Prairie, Fort McMurray, Quebec, Saskatchewan and Ontario.
Respected business writer Mario Toneguzzi is a veteran Calgary-based journalist who worked for 35 years for the Calgary Herald in various capacities, including 12 years as a senior business writer.
---

The views, opinions and positions expressed by columnists and contributors are the author's alone. They do not inherently or expressly reflect the views, opinions and/or positions of our publication.
Calgary's Business is a Troy Media Digital Solutions Associate website