Wholesale sales in Alberta rose 0.2 per cent in December to $6.7 billion, according to Statistics Canada.
The federal agency reported on Thursday that sales were up by 1.2 per cent year over year.
Across Canada, it said, wholesale sales rose 0.3 per cent to $63.1 billion in December following a 1.1 per cent decline in November. Sales were up in four of seven subsectors, representing about 64 per cent of total wholesale sales. The motor vehicle and parts and the miscellaneous subsectors led the gains.
"Following two consecutive months of declines, sales in the motor vehicle and parts subsector were up 3.7 per cent to $10.9 billion in December, almost entirely due to higher sales in the motor vehicle industry (+5.8 per cent). The miscellaneous subsector rose for the fourth time in five months, up 2.0 per cent to $8.7 billion in December. Sales were up in three of five industries, led by the agricultural supplies (+4.1 per cent) and other miscellaneous (+3.6 per cent) industries," said StatsCan.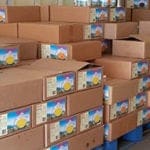 "Sales in the building material and supplies subsector increased 0.7 per cent to $9.1 billion, the first gain in three months. The lumber, millwork, hardware and other building supplies industry (+2.7 per cent) reported the sole increase in December."
It said wholesale inventories increased for the fourth consecutive month, up 1.9 per cent in December and surpassing the $90 billion mark for the first time ($90.3 billion). Inventories were up in five of the seven subsectors, representing about 73 per cent of total wholesale inventories.
"The inventory-to-sales ratio rose from 1.41 in November to 1.43 in December, the highest level since November 1995. This ratio is a measure of the time in months required to exhaust inventories if sales were to remain at their current level," added the federal agency.
On a year-over-year basis, wholesale sales rose by 1.7 per cent in Canada.
In 2018, wholesale trade in Canada rose for the ninth consecutive year, up 3.7 per cent to $757.2 billion. Sales were up in six of seven subsectors, accounting for 83 per cent of total wholesale sales.
Wholesale sales rose 5.2 per cent in Alberta, reaching $82.1 billion as a result of higher sales in machinery, equipment and supplies (+7.7 per cent) and building material and supplies (+5.1 per cent) areas.
– Mario Toneguzzi
---
The views, opinions and positions expressed by columnists and contributors are the author's alone. They do not inherently or expressly reflect the views, opinions and/or positions of our publication.