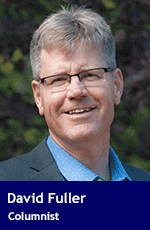 "Why are you making us do this?" the lady screeched to the Air Canada check-in attendant at the Dublin Airport recently.
"I've never been asked before to put my carry-on luggage into those things." She pointed to the metal stand into which her teenage kids were forcing their obviously oversized bags, to estimate appropriate size.
"You're picking on us!" she ranted.
As her voice reached a crescendo, all 150 heads in the lineup behind her turned to see what was going on.
I looked over at my wife and rolled my eyes as I glanced down at our family of six's overstuffed luggage, containing everything we had needed for three weeks in Europe. Knowing our luggage was definitely not going to fit into the metal stand that's meant to regulate the size of carry-on luggage, I prayed silently that when I got to the front of the line I would have another check-in attendant. Anyone other than this luggage tyrant.
A supervisor appeared and tried to calm the customer, with only limited success. Finally, after several minutes of negotiation, the customer huffed off, entourage in tow.
A few minutes later, we were waved down to the dreaded attendant. I could only imagine how much it was going to cost us to check all our luggage through to our final destination in Prince George.
Despite her difficult customer a few minutes before, our attendant, the luggage tyrant, appeared cheery. "Luggage to check?" she asked, looking over my shoulder at our bulky, overweight luggage and tired family.
"Well I have one that I paid for," I said as I quickly hoisted Margaret's large red bag onto the scale, trying to make it appear light.
"Does that luggage fit in the metal rack or would you like to check it through?" she asked with a smile.
I put my hand into my pocket and touched my credit card, resigned to the fact that in this new world of travel fees, I was going to pay heavily.
"Check it through," I said, knowing I could get some of the bags into the metal rack but probably couldn't get them out without breaking something and having the whole lineup of people gawking at me.
"Good idea, Mr. Fuller," said the attendant to me. And then she added, "There's no charge today to check your luggage through."
I could hardly believe my ears.
I was grateful but confused. This meant that the previous customer was making a big fuss over nothing. It also told me that the attendant would have communicated more clearly if she had stated that they were putting hand luggage through to ensure that there was space in the overhead baggage storage area.
Had she been properly informed, the previous customer's shouting scene would have been avoided. It would have ensured that my stress levels, and those of the 150 people waiting in line to check their bags, would have gone down instead of up. If only we had known earlier that Air Canada was giving us a normally paid service for free today.
What happened in that Air Canada lineup demonstrates how a well-intentioned offer can go sideways and turn customers off.
Perhaps it was a misunderstanding on behalf of the customer, thinking that the attendant when asking her family to put their luggage into the sizing rack was going to charge them $50 per bag.
Communication can be difficult at the best of times. And in a business that deals with customers who are already stressed with the pressures of daily life, good, clear communication is essential. Not only do we need to speak the words clearly that convey the message we intend, but our body and all signage needs to convey that same message.
When communication breaks down between a business person and a customer, everyone loses.
Great customer service starts with good intentions and a great message. When we're clear, concise and consistent in our communication, our customer service improves.
Communication means we have to listen more than we talk. What's our customer telling us with their words and body language? How do we need to respond to ensure that our customers clearly understand what we're saying? How can our communication reduce our customers' stress and enable them to comprehend what we mean?
The Air Canada attendant hadn't meant to upset her customer that morning in Dublin. She was trying to be helpful. If someone had made an announcement that due to a shortage of space in the overhead bins, carry-on luggage would be checked through to the final destination for free, it would have made a huge difference in the stress levels of the attendant and the passengers.
The intent was awesome but the message was lacking!
Dave Fuller, MBA, is an award winning business coach and a partner in the firm Pivotleader Inc. Comments on business at this time? Email dave@pivotleader.com
---
The views, opinions and positions expressed by columnists and contributors are the author's alone. They do not inherently or expressly reflect the views, opinions and/or positions of our publication.