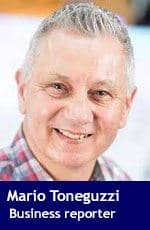 Calgary-based CAP Corp., a social enterprise company, was founded on the principle that preventing concussions is about changing the athlete, not the sport.
The company says its patented technology simulates a sports impact to test neck function and prevent concussions before they occur.
Kim Adolphe, president and CEO of CAP (Concussion Active Prevention), said the company was launched in 2016. The company also has a director of sales based in Edmonton.
"Essentially the model is B2B (business to business). We actually invest in our partnerships. We're very selective. It's sports performance trainers, leagues in various different sports, associations, clubs and that sort of thing where they actually implement our CAP program," said Adolphe.
"We have a significant representation in the States in that regard. Really, here in Canada right now we're obviously in Alberta – in Edmonton and Calgary. But we will shortly be launching in Manitoba and Saskatchewan with some football leagues."
The company said the bottom line is that athletes need an entirely new method of conditioning to be resistant to the demands of their sport.
"It is our contention that through our new innovative CAP Program we can change how an athlete handles an impact and thus reduce the risk of TBI (traumatic brain injury)," it says on its website.
"The goal is to move the theoretical science from the laboratories into the hands of coaches to safeguard athletes. The CAP Program does just that. It puts control in the hands of coaches and athletes at all levels of sport and, allows us to gather valuable data to utilize for new, practical research studies, products, protocols, and services. We work closely with leading scientists at Universities, Government, and Private Institutes including University of Alberta, Natural Sciences and Engineering Research Council of Canada (NSERC), corticalmetrics, and Innovate Calgary."
CAP Corp. is a social enterprise that dedicates 20 per cent of its revenues to helping fund amateur sports, concussion research and nonprofit organizations.
Adolphe said the industry sector has traditionally been nonexistent when it came to prevention. It was all reactive.
"So we ended up developing and getting a worldwide patent on what we refer to as our RAM machine and our technology that has now been clinically validated by the Canadian Society of Mechanical Engineering and so we've conducted a fair amount of research with different groups of athletes," she said.
The CAP technology and patented RAM machine is the only solution in the world that is clinically validated to safely test the risk of sustaining concussions and, prevent them from occurring, says the company. CAP also offers a Brain Repair Program that uses state-of-the-art diagnostic tools and therapies.
"We're now in that space that there are ways of being proactive as opposed to being reactive. It's not just about managing concussions and there's endless tools out there that do that. It's about measuring risk, generating individualized training protocols, tracking that performance in order to adjust the training as they go forward, and preventing and reducing concussions," said Adolphe.
CAP is working with Dr. Hossein Rouhani, Department of Biomedical Engineering, Faculty of Medicine and Dentistry, University of Alberta, and his team to demonstrate the CAP Program's efficiency in reducing the risk of concussion.
"The unique feature of the CAP testing system and biomechanical analysis is its predictive value: We do not need to have an athlete experience an actual concussive impact to evaluate the effectiveness of his/her strength training on the risk of concussion. It is the first time that such an innovative, affordable system enables coaches to safely and objectively evaluate the strength training and thus opens horizons to utilize an optimal training protocol that minimizes the incidence of concussions in contact sports," said Rouhani.
---
The views, opinions and positions expressed by columnists and contributors are the author's alone. They do not inherently or expressly reflect the views, opinions and/or positions of our publication.