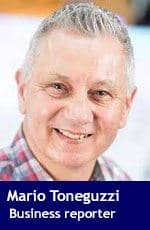 The good news for Alberta is that its economy continues to move forward as it gears up for the final months of 2018.
The not-so-good news is that the road to recovery is slow.
A new economic outlook by ATB Financial's Economics & Research Team is forecasting economic growth of 2.6 per cent this year, 2.2 per cent in 2019 and 2.1 per cent in 2020.
This comes after the province moved out of the recession years of 2015 and 2016 with gross domestic product rising on an annual basis by 4.9 per cent in 2017.
"Still shaking off the effects of the 2015-16 recession, it has been a long but steady climb higher. However, the pace of growth continues to frustrate many Albertans, particularly those who are struggling in the job market. Employment has risen over the last year, but the rate of improvement has been slow and unsteady," said the ATB report.
"The global economy has shown resilience, particularly given the heightened trade tensions between the U.S., China and other nations. This growth has been a benefit to Alberta as it has supported global oil prices. However, the healthy state of the global economy cannot be guaranteed – and if trade tensions worsen, a slowdown is almost inevitable."
The report said the Canadian economy has also performed well in 2018, prompting the Bank of Canada to raise interest rates in July for the third time in a year. A strong inflation report for July almost guarantees at least one more rate increase this year.
"Against this backdrop, Alberta can expect steady but sluggish improvements. Trade relations with the U.S. – particularly their uncertainty and unpredictability – pose the biggest risk," said ATB.
"Moving into autumn 2018, Alberta's economy continues to improve with several key economic indicators – employment, retail trade and manufacturing sales – higher than they were last year. Nonetheless, growth has not been rapid enough to push the unemployment rate down to pre-recession levels, and there are questions about the quality and compensation of the new jobs, especially in the energy sector. Sectors which have taken up the baton of growth include agriculture and agrifoods, tourism, transportation and logistics, and the tech sector."
Mario Toneguzzi is a veteran Calgary-based journalist who worked for 35 years for the Calgary Herald in various capacities, including 12 years as a senior business writer.
---

The views, opinions and positions expressed by columnists and contributors are the author's alone. They do not inherently or expressly reflect the views, opinions and/or positions of our publication.