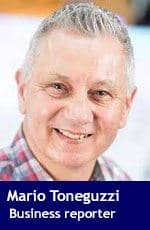 Alberta is in position to be the economic growth leader among all provinces for a second straight year, says a report on released Wednesday by RBC Economic Research.
"Recovery from the tough 2015-2016 recession is continuing with more sectors of the economy contributing. Stronger oil prices are a clearly positive development keeping the recovery on track. That being said, we expect growth to slow significantly to 2.5 per cent from last year's outsized rate of 4.7 per cent. Last year's burst spoke more about how deep the economy fell in 2016 than actual vigour in 2017," said the bank's Provincial Outlook report.
"Capital expenditures in the oil and gas sector have yet to turn around – they fell two per cent in the first half of 2018."
For 2019, the report forecast economic growth of 2.5 per cent for the province, behind Saskatchewan's 2.8 per cent and Newfoundland and Labrador's 2.6 per cent.
For Canada, the economy is expected to grow 2.1 per cent this year and 2.0 per cent next year.
"Tight labour markets are part and parcel of the Canadian economy operating at capacity. To prevent the emergence of excess demand – a situation that leads to overheating – the Bank of Canada has embarked on an interest rate hiking campaign to moderate GDP growth toward its long-run potential rate," said the report.
"Our view is that rising interest rates will have the desired effect and contribute to overall growth in Canada easing from 3.0 per cent last year to 2.1 per cent in 2018. This constitutes a slight upward revision of 0.1 percentage points in 2018 from our June Provincial Outlook report.
"We expect growth to moderate from 2017 in all provinces. Cooling housing markets and the winding down of major capital projects will be among the restraining factors in some of the provinces.
"We believe that a tight supply of labour is already restraining economic growth in several provinces this year. This is especially the case in British Columbia, where one in every 24 jobs (4.2 per cent) was unfilled in the first quarter, which no doubt inhibits the ability of many businesses to pursue growth opportunities. Tight labour supply also play a key role in slowing growth down in Ontario, Quebec and Alberta, albeit to lesser extents."
Mario Toneguzzi is a veteran Calgary-based journalist who worked for 35 years for the Calgary Herald, including 12 years as a senior business writer.
---

The views, opinions and positions expressed by columnists and contributors are the author's alone. They do not inherently or expressly reflect the views, opinions and/or positions of our publication.