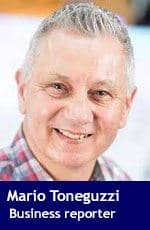 Alberta's economy may be on the road to recovery but there are still indications that the province isn't out of the woods just yet following the 2015-2016 recession.
At least that's what Alberta's entrepreneurs will tell you. And that's evident in the latest Business Barometer report released on Thursday by the Canadian Federation of Independent Business.
Alberta business confidence and optimism is now the lowest in the country and the organization is laying the blame for that squarely on taxes and red tape.
"It's unfortunate to see small business confidence take another hit this month. Taxes and regulatory costs ranked, by far, as the greatest cost constraint for independent businesses in August," said Muriel Protzer, CFIB policy analyst for B.C. and Alberta. "Seventy-seven per cent of business owners surveyed identified it as major issue.
"Moving forward, it is critical for governments at all levels to consider the compounding effect these costs can have on smaller firms."
In Alberta, small business confidence declined 1.9 points in August to 53.9, putting it 7.7 points below the national average (61.6).
CFIB says the barometer is measured on a scale of zero to 100. An index level between 65 and 75 normally indicates that the economy is growing at its potential and a majority of owners expect their business performance to be stronger in the next year.
The Alberta report also found that:
Full-time staffing intentions were down four points as 13 per cent of business owners are looking to increase full-time employees. The percentage looking to cut back on staff decreased by a point to 13 per cent.

24 per cent of entrepreneurs say their firms are in good shape (down two points).

The number of business owners who view their firms as being in bad health is now at 22 per cent, up one point.
Here are the numbers reflecting business confidence for all the provinces: Prince Edward Island (74.0), Quebec (71.8), Nova Scotia (66.9), Manitoba (62.4), New Brunswick (58.0), Saskatchewan (57.9), Ontario (57.6), Newfoundland and Labrador (56.5) and British Columbia (55.9).
Omar Abdelrahman, an economist with TD Economics, said the results of the national CFIB report are positive, especially after two consecutive months of declines, and in the wake of ongoing uncertainty over North American Free Trade Agreement (NAFTA) negotiations.
"That said, with this index showing bouts of volatility, not too much emphasis should be placed on one month of data," he said. "Continued citing of shortages of skilled and semi-skilled workers over the past year reiterate the tightening labour market narrative – and echo sentiments expressed in the Bank of Canada's Business Outlook Survey earlier in the summer. This, together with recent inflation data, and a range of positive economic indicators position the Bank of Canada for a rate hike in October. Nevertheless, early signs of rising borrowing costs in the survey may indicate that the impacts of rising rates may be starting to hit small businesses.
"Looking ahead, there are reasons to be optimistic regarding NAFTA. Any potential resolution should push the index upwards and hopefully reduce some of the volatility experienced in the past year."
On a sectoral basis, performance was mixed, increasing in seven out of the 13 broader sectors represented in the index, he said.
"Professional and business services maintained the top spot at 67.2, whereas health and educational services jumped an impressive 4.6 points to reach 66.5, ranking in second place. Natural resources (+7.4 to 48.3) and retail (+6.9 to 61.1) led this month's increases. Confidence declined the most in financial services (-4.8 to 58.2), transportation (-4 to 56.5), and construction (-3.9 to 55.8). The agriculture sector only edged up 0.8 points, maintaining its last position at 41.1 points," he added.
Mario Toneguzzi is a veteran Calgary-based journalist who worked for 35 years for the Calgary Herald, including 12 years as a senior business writer.
---

The views, opinions and positions expressed by columnists and contributors are the author's alone. They do not inherently or expressly reflect the views, opinions and/or positions of our publication.