Jennifer Carlson is co-founder of Baby Gourmet and academic chair (Innovation and New Ventures) at SAIT's School of Business.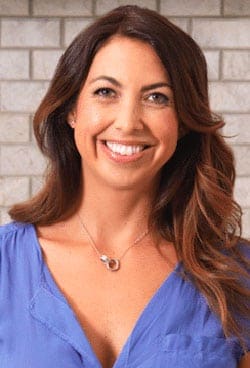 Calgary's Business: How did the idea of establishing Baby Gourmet come about?
Carlson: The idea for Baby Gourmet came about 13 years ago when my then six-month-old daughter was starting solids and I was not happy with the selection of baby food available in the grocery stores.
Baby food had a stigma of tasting bad and no parent ever wanted to try it let alone eat their baby's food. I felt different. I felt that if I wouldn't eat her food then how could I, in good conscience, feed it to my baby?
I thought baby food should be not only delicious but interesting and varied. Why not make the basic bananas and rice more interesting by adding berries, vanilla and coconut milk; or adding herbs and spices to roasted vegetables and wild salmon?
We put premium gas in our luxury cars, why not put the best, highest quality baby food into the most important members of the family?
These were all the questions I was asking myself as I built out the business concept. Once I enlisted my sister, Jill Vos, to join in my vision, we took to the market by testing the idea at the Calgary's Farmers Market. With two years of solid market research and a vision of every baby and every parent having access to the best baby food, we set on a mission to change the way people fed their families.
CB: What's your current role with the company?
Carlson: I develop and lead new innovation for both the Baby Gourmet and Slammers brands. I also remain the company spokesperson and am working with a great team on developing the brand in the Asian market.
Jill and my strengths have always been developing new and interesting on-trend products and bringing the heart and soul of the brand through our marketing efforts.
CB: What's your role and purpose now with SAIT's School of Business?
Carlson: I'm working with the team in the School of Business to develop more programs in the innovation and entrepreneurial space. SAIT develops creative minds with its applied learning format, which makes for a great entrepreneurial culture. We're trying to develop the entrepreneurial skills for these students and encourage them to bring their ideas to life.
CB: What was the biggest challenge you faced as an entrepreneur?
Carlson: One of the biggest challenges I faced, and the greatest learning curve was the real cost of raising of capital and effectively the dilution of control. When capital was raised to accelerate growth, losing control and not having my principle values and beliefs being met was beyond hard to accept.
Accepting that not all people conduct business the way I do, and that trust is hard to come by, was almost debilitating.
The only thing I could do to overcome this was to forgive myself, learn from my mistakes, continue to believe there are good business practices in the world and work differently in my next venture. In short, it's not just about raising capital, it's the source and finding the right partners.
The biggest piece of advice I would give someone is to do your homework. Really understand your market, your consumer and extensively develop your proof of concept. I have seen it too many times where someone has sunk hours of their time, drained their bank accounts, ruined relationships and almost lost everything over an idea that was never really proven or fully understood.
Do the research, crunch the numbers and set out multiple plans as risk mitigation. It's a lot easier to take the big risks when you have a better idea on the outcome.
CB: What's next for you?
Carlson: I have found my personal niche as an entrepreneur and that's finding the white space in consumer products. From building out a premium organic baby food category, I'm now setting my sights on the natural personal care industry. I've moved from innovating what goes into your body to what is going on your body.
My new company, Thirsty Naturals, is a natural and toxin-free line of personal care products for teenagers. There are products for baby, kids, women and men, but nothing that addresses the specific needs from formulation to marketing that is designed specifically for this underserved market.
It felt like a natural evolution from Baby Gourmet as my little inspirations are now teenagers and facing new challenges. I'm planning to take all the learnings from my previous adventure and build something great with ethical products that make people's lives healthier and cleaner.
– Mario Toneguzzi
---

The views, opinions and positions expressed by columnists and contributors are the author's alone. They do not inherently or expressly reflect the views, opinions and/or positions of our publication.