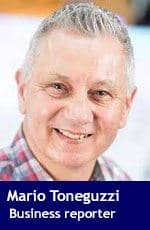 The annual PwC survey of initial public offerings (IPOs) in Canada indicates that the fourth quarter of 2018 saw 22 new issues on three Canadian exchanges deliver $336 million in new equity, which brought the total for the year to $2.2 billion.
This was less than half of the 2017 total and the final quarter was down $1.7 billion from the 12 IPOs in the final quarter of 2017.
In all of 2018, 54 new equity issues on four exchanges generated $2.2 billion compared with the $5.1 billion raised from 37 IPOs in all of 2017.
"The fourth quarter was pretty respectable when you consider the market volatility in December," said Dean Braunsteiner, national IPO leader at PwC Canada. "Unlike 2017, which was skewed by the single giant Kinder Morgan Canada offering, 2018 was reflective of a more normal market in Canada."
PwC said the largest IPO of 2018 was the $462 million Ceridian HCM Holding issue of the second quarter. Second and third places were held by MAV Beauty Brands ($241 million) and AltaGas ($239 million), making the top three issues from three different sectors.
"I think that's a testament to the diversity of the Canadian market," said Braunsteiner.
In a news release, PwC said uncertainty about interest rates, the continuing Brexit saga in the United Kingdom and global trade tensions – factors that disrupted markets at the end of 2018 – are expected to persist well into 2019, making it difficult to value new issues and bring them to market.
---

The views, opinions and positions expressed by columnists and contributors are the author's alone. They do not inherently or expressly reflect the views, opinions and/or positions of our publication.