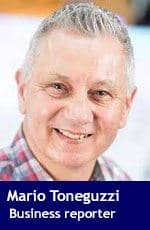 Net earnings for Canadian Natural Resources Ltd. climbed to $1.8 billion in the company's third quarter, up from $684 million a year ago.
"The strength of our well balanced and diverse portfolio, combined with Canadian Natural's ability to effectively and efficiently execute, delivered a strong third quarter for the company," said Steve Laut, executive vice-chairman, in a news release on Thursday.
"Record quarterly adjusted funds flow of over $2.8 billion was achieved in the third quarter and adjusted funds flow of $7.9 billion was achieved in the first nine months of 2018. Capital allocation continued to be balanced amongst our four pillars to maximize shareholder value. In the first nine months of 2018, economic resource development remained disciplined at 40 per cent of adjusted funds flow. Returns to shareholders were robust at 26 per cent of adjusted funds flow and 31 per cent of adjusted funds flow was allocated to the balance sheet further strengthening our financial position."
The price per diluted share in the quarter was $1.47, which was up from 56 cents a year ago.
"In the third quarter, Canadian Natural continued to deliver on its commitment to strengthen the balance sheet. The company achieved quarterly net earnings of $1,802 million and record quarterly adjusted funds flow of $2,830 million, contributing to absolute net long-term debt reduction of approximately $2,880 million year to date," said Canadian Natural's chief financial officer, Corey Bieber. "In the quarter, available liquidity improved to $5,350 million, an increase of approximately $550 million from the second quarter of 2018. Debt to adjusted EBITDA strengthened to 1.7 times and debt to book capitalization improved to 36.8 per cent over the quarter.
"Our focus on returns to shareholders has resulted in $2,030 million being returned to shareholders, in the first nine months of 2018, by way of dividends of $1,156 million and share purchases of $874 million. Subsequent to the quarter, an additional 6,900,000 shares were purchased at a weighted average share price of $38.66. Our balance sheet strength gives us the flexibility to deliver our defined growth plan and continue to drive long-term shareholder value creation."
Mario Toneguzzi is a veteran Calgary-based journalist who worked for 35 years for the Calgary Herald, including 12 years as a senior business writer.
---

The views, opinions and positions expressed by columnists and contributors are the author's alone. They do not inherently or expressly reflect the views, opinions and/or positions of our publication.