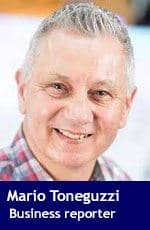 Christmas will soon be here and in many ways the shopping season has already begun.
A new report says Canadians will spend an average of $1,563 this Christmas shopping season, a 3.7 per cent hike over the previous year.
According to PwC Canada's 2018 Holiday Outlook report, eight out of 10 Canadians plan to spend the same or more money this year and 60 per cent will shop between Black Friday and Dec. 25.
The report said economic factors such as higher interest rates, climbing debt levels and trade negotiations do not appear to be barriers to Canadians increasing their gift giving this upcoming season.
"Canadians are ready to shop this holiday season despite recent trade uncertainty and climbing debt levels," said Myles Gooding, national retail leader at PwC Canada. "Retailers should expect to see an influx of shoppers in-store compared to last year but online sales still remains a convenient shopping experience for all."
The report said 74 per cent of Canadians will use their credit cards to purchase gifts and only 19 per cent are concerned about credit card debt. Also, 62 per cent believe the economy will perform the same or better in the next six months and are likely to spend more.
"Travel continues to make up the largest part of holiday spend (46 per cent), followed by gifts (41 per cent) and entertainment, which includes dining out (13 per cent)," said PwC. "Gift cards continue to be a popular gift option as they are simple and convenient.
"This holiday season, we will see more people shopping in-store, rather than online, to find inspiration and compare prices. Millennials, on the other hand, prefer using Amazon and Google for their shopping needs, citing convenience as a major reason. In Canada, there is only a 23 per cent adoption of Amazon Prime compared to 55 per cent in the United States.
"Approximately one-third of Canadians plan to shop in the U.S. to access better deals and wider product range. Most shoppers are focused on apparel (49 per cent) and electronics (48 per cent)."
Mario Toneguzzi is a veteran Calgary-based journalist who worked for 35 years for the Calgary Herald, including 12 years as a senior business writer.
---

The views, opinions and positions expressed by columnists and contributors are the author's alone. They do not inherently or expressly reflect the views, opinions and/or positions of our publication.