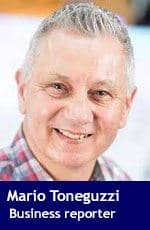 With the legalization of cannabis taking effect today, Statistics Canada released some interesting data about the industry and the use of the substance.
Here are some of the numbers from StatsCan:
The latest National Cannabis Survey results for the third quarter of 2018 indicated about 4.6 million or 15 per cent of Canadians aged 15 and older reported used cannabis in the third quarter, similar to what was reported throughout 2018. Use remained more common among males and 15-to-24-year-olds.

Over the first nine months of 2018 (combined survey data for the first, second and third quarters), 14 per cent of cannabis users with a valid driver's licence reported driving within two hours of using.

Based on early information from regulatory authorities, an estimated 288 cannabis retail outlets will be open for business during the fourth quarter.

Survey info found that Canadians paid $7.20 per gram on average for dried cannabis in the third quarter, up 1.3 per cent from $7.10 per gram in the second quarter and up 6.2 per cent from $6.78 in the first quarter.

5.4 million people are expected to want to purchase legal cannabis in the fourth quarter and 1.7 million people will continue to buy illegal cannabis.

Spending on legal cannabis is expected to range from $816 million to $1 billion in the fourth quarter. In contrast, purchases of illegal cannabis are anticipated to range from $254 million to $317 million, accounting for about 24 per cent of the total market.

The size of the cannabis industry in Canada is estimated at $3 billion in 2017, on par with the beer industry and larger than the tobacco industry.

Household spending on cannabis rose 1.2 per cent in the second quarter of 2018 to $5.7 billion. These expenditures have been increasing steadily since the first quarter of 2015, rising at an average rate of 1.0 per cent per quarter.

British Columbia produced the most cannabis products in Canada in 2017, accounting for 36.6 per cent of the total, followed by Quebec (31.0 per cent) and Ontario (22.7 per cent).

Production of dried cannabis by these licensed cannabis producers was 80,535 kilograms in 2017, with 46,186 kilograms sold and 38,927 kilograms in stock at the end of the year.

Cannabis use among Canadians aged 15 years and older more than doubled from 1985 (5.6 per cent) to 2015 (12.3 per cent).
Mario Toneguzzi is a veteran Calgary-based journalist who worked for 35 years for the Calgary Herald, including 12 years as a senior business writer.
---

The views, opinions and positions expressed by columnists and contributors are the author's alone. They do not inherently or expressly reflect the views, opinions and/or positions of our publication.