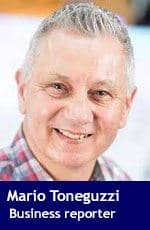 Canadian small- and medium-sized businesses leveraging e-commerce are growing significantly faster than their offline counterparts, according to a report released on Thursday by PayPal.
The report said small businesses that sell online through PayPal grew 22 per cent year over year in 2017, in sharp contrast to offline small businesses, which saw less than one per cent growth year over year in 2016.
"In today's competitive world, small businesses need access to digital tools that open them up to global audiences," said Paul Parisi, president of PayPal Canada, in a news release. "With a deep dive into our data it's heartening to see that our small business customers are digitizing their businesses to grow and sell internationally. For Canada to be a more vibrant and inclusive economy, we need the vast majority of small businesses to embrace digital commerce capabilities because that's where the world is shifting."
PayPal Canada analyzed online transaction data from 4,000 Canadian small businesses that use its platform. It found:
More than 63 per cent of digital small businesses export their goods and services. In 2014, about 12 per cent of Canadian small and medium businesses engaged in international trade.

Digital small businesses that exported their goods and services experienced three per cent more growth between 2016 and 2017 than non-exporting digital small businesses.

Nearly 30 per cent of exporting digital small businesses sell to three countries or more.

The United States and Mexico are two of the top 10 trade corridors for Canadians businesses.

Digital small businesses located in rural parts of Canada grew 18.5 per cent between 2016 and 2017, while urban businesses grew at 21.3 per cent. Suburban businesses saw the highest rates of growth at 46.5 per cent, year-over-year.

Digital small businesses in Nova Scotia saw 47 per cent growth year over year from 2016 to 2017, while businesses in Manitoba saw 30 per cent growth. In Ontario, businesses saw 26.2 per cent growth in the same period.

In Saskatchewan, these trends are even more pronounced. Exporting digital small businesses grew over 10 per cent faster than non-exporters, and almost 40 per cent of exporters reach more than three markets.
"It's clear that technology can accelerate growth for small businesses, which make up 98 per cent of all Canadian businesses. Despite this, only one in five Canadian businesses sell online, demonstrating that there is still untapped potential for small business growth," said PayPal.
Mario Toneguzzi is a veteran Calgary-based journalist who worked for 35 years for the Calgary Herald, including 12 years as a senior business writer.
---

The views, opinions and positions expressed by columnists and contributors are the author's alone. They do not inherently or expressly reflect the views, opinions and/or positions of our publication.