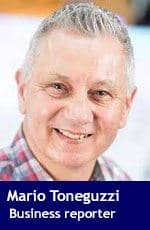 Encana Corp. is acquiring all of the outstanding shares of common stock of Newfield Exploration Co. in an all-stock transaction valued at approximately $5.5 billion, it was announced on Thursday.
In a news release, the companies said Encana will also assume $2.2 billion of Newfield net debt.
"The strategic combination will create a leading multi-basin company and has been unanimously approved by the boards of directors of both companies. Subject to receipt of regulatory and shareholder approvals by both companies, the transaction is expected to close in the first quarter of 2019," said the release.
"This strategic combination advances our strategy and is immediately accretive to our five-year plan," said Doug Suttles, Encana president and CEO. "Our track record of consistent execution gives us confidence to accelerate and increase shareholder returns. I am very excited to lead the combined company and want to congratulate the team at Newfield on doing a tremendous job building premium positions in the core-of-the-core in each of their assets, particularly in the world-class, oil-rich, STACK/SCOOP. When combined with our cube development model, expected synergies and relentless focus on efficiency, we are positioned to deliver highly efficient growth and quality returns."
"This transaction is the best path forward for our company. The combination of the two companies provides our investors with the very attributes that should be differentiated in today's energy sector – operational scale, proven execution in development of large, liquids-rich onshore resource plays, a peer-leading cost structure and an exceptionally strong balance sheet," said Lee K. Boothby, Newfield chairman, president and CEO.
"We strongly believe that the synergies between these two organizations will create a dominant diversified resource player that is positioned to drive future value. The new organization will be capable of efficiently developing high-value growth assets while delivering significant cash to shareholders. Throughout our 30-year history, Newfield has worked to create a strong portfolio of assets managed by some of the best and brightest people in the business. The merger will accelerate the development of these assets and as a result, capture full value for our owners."
On Thursday, Encana also released its financial results for the third quarter, which saw net earnings drop to $39 million from $294 million in the third quarter of 2017. Cash from operating activities of $885 million was up 148 per cent year over year.
Mario Toneguzzi is a veteran Calgary-based journalist who worked for 35 years for the Calgary Herald, including 12 years as a senior business writer.
---

The views, opinions and positions expressed by columnists and contributors are the author's alone. They do not inherently or expressly reflect the views, opinions and/or positions of our publication.