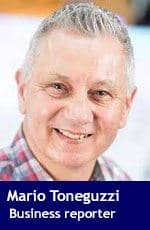 Energy Disruptors: Unite 2019 is returning to Calgary this week. The event is intended to encourage action among world-renowned thought leaders to look at the greatest energy challenges as opportunities.
The event takes place Tuesday and Wednesday at Stampede Park.
The 2019 summit will be headlined by well-known author and speaker Malcolm Gladwell.
"We have been overwhelmed with the positive responses from the event last year and are excited to continue the conversations that drive change," said Graeme Edge, co-founder and chief instigator of Energy Disruptors. "The actions coming out of Energy Disruptors Unite are crucial in diversifying the energy landscape, seizing on the global opportunity of energy transformation and ensuring Alberta is well positioned for the future."
Energy Disruptors is the brainchild of Edge, Michelle Edge and Rachel Maxwell. Last year, Sir Richard Branson was the summit's guest speaker and attracted 1,700 people. Energy Disruptors is a profit-for-purpose organization with a bold ambition to unite the entire spectrum of the energy industry around the common goal of accelerating pragmatic and profitable solutions to the world's biggest energy challenges.
"It's a big future of energy and tech event that brings together oil and gas, renewables, energy storage, tech entrepreneurs, the folks from the transportation sector, investors and people interested in the environment, social forces and policy under one roof and try to find some common ground between those stakeholders when we think about the future of energy," said Edge.
"The purpose of this is to try to get some of those groups to collaborate, to accelerate solutions to big global energy problems."
Edge said the discussion around energy in the last few years has been extremely polarized but the summit is trying to have a more balanced conversation when talking about the future of energy.
"In order to do that you've got to bring different perspectives together," he said. "You've got to try to find some common ground between those groups.
"We're trying to get people to think about the future of energy as a tremendous opportunity rather than as a threat. It's an incredibly exciting time in the world of energy. There's a lot going on. There's a lot of exciting new technologies and there's a lot happening in the transportation sector. … There's not one energy silver bullet. We're going to need multiple forms of energy and multiple solutions."
Peter Tertzakian, executive director of ARC Energy Research Institute, will give a keynote speech called Disruption, Denial, and Transition (Perspectives from an Energyphile). It's about the forces of change at work in our energy world.
"Last year (the event) made a big splash. Everybody's talking about disruption. We're far from over in terms of seeing our business disrupted here," he said. "Every industry is undergoing disruption. … Disruption is an epidemic that is affecting every industry with profound consequences. Every single corner of the economy is undergoing commercial or industrial disruption. The question is why is energy any different? It's not.
"When you talk about disruption in energy what immediately comes to mind is climate change, environment and renewables disrupting oil and gas. But in actual fact that's only one dimension of the disruption that is weighing on the oil and gas industry. Some of the biggest disruptions are coming from within. We have seen incredible changes."
His next book on the industry is called The Investor Visit and Other Stories: Disruption, Denial and Transition in the Energy Business.
"This conference is important because it brings people together to talk about these issues, to see what's going on," he said. "It's a tough subject. It's not easy to talk about.
"We are undergoing disruption. We can't be in denial about it although that's a very human trait. But we are in transition. That's not a bad thing if you understand it. Then you can strategize for it. My book, which is really a compilation of short stories about transition, helps people realize that we have seen these sorts of things in the past, nothing new, we can learn from the past. We can then embrace the present with those lessons from the past and importantly we can prepare for the future."
Gladwell is the author of five New York Times bestsellers, one of the 100 most influential people identified by Time magazine and one of the Foreign Policy's Top Global Thinkers. Gladwell also has a popular 10-part podcast, Revisionist History, that's now in its third season. He will bring a fresh perspective to problems faced in the energy industry with a wealth of knowledge from his experience at the New Yorker and The Washington Post.
Last year's moderator and speaker, Holly Ransom, has taken on a new role as a co-founder and owner. Ransom is a 2019 Fulbright Scholar and was named one of Australia's 100 Most Influential Women by the Australian Financial Review. She was also Branson's nominee for Wired Magazine's Smart List of Future Game Changers to watch in 2017. Additionally, Ransom delivered a Peace Charter to the Dalai Lama, addressed the G20's Central Bank Governors and Finance Ministers and was requested by Barack Obama in 2018 to interview him during his only engagement in Australia.
"Last year, I was fortunate to experience first-hand how integral this event is in driving conversations and making real change in the energy sector and realized this was something special to be a part of," said Ransom. "By bringing great minds from around the world to collaborate and work together towards a solution that benefits us all, real change can happen. Having been fortunate enough to be a part of the strategic planning conversations and ideation from when Energy Disruptors Unite was conceptualized it has been incredible to watch the momentum the team have built in such a short period of time. I cannot express how excited I am to be the fourth partner and co-founder for this summit."
Mario Toneguzzi is a Troy Media business reporter based in Calgary.
---

The views, opinions and positions expressed by columnists and contributors are the author's alone. They do not inherently or expressly reflect the views, opinions and/or positions of our publication.