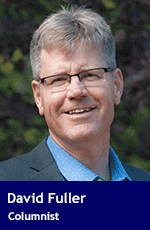 I had a hard time writing this article. I'm not sure if it was fatigue or laziness, but I procrastinated even sitting down at the computer until almost the last minute.
I had excuses, distractions, a nap and a few squirrels to chase on social media.
I even saw something that said Bill Gates, or was it Steve Jobs (I'm too lazy to verify this and it may even be fake news), liked to hire lazy employees because they found easier ways of doing difficult tasks.
Unfortunately, while I felt lazy, I couldn't dodge the fact that the clock was ticking, I had to get this article written and there was no easy way to accomplish it.
As a business coach, I run into clients who tell me they were too busy to finish the tasks they had promised to complete before our meetings. As I'm well aware, running an organization, department or a family has demands that can be all-encompassing and time consuming. There are urgent meetings, interruptions, and challenges that take our time and constantly pull us down into the weeds of the business.
However, if we continuously allow day-to-day distractions to hold us back from actually fulfilling our commitments, whether in the workplace, with our family or to our self improvement, we will be disappointed and discouraged.
When I work with clients who seem never to be able to get their actions completed, I wonder if they were really serious about achieving their stated targets or if I've pushed them too hard.
In some cases, to achieve the most mutually beneficial results, I have to fire them.
Sometimes it's exactly our ability to dodge work that can lead to success. I recently met a man in a larger organization who skipped meetings. He told me that the meetings were a waste of time and he felt he could accomplish more if he concentrated on his work while others on his team were talking about working.
In the financial industry, with its changes in regulations, some advisers and banks focus on the top 20 per cent of their clients, who provide 80 per cent of their income, because they want to avoid the work associated with supporting the bulk of their customers. This probably makes sense – unless you're in the 80 per cent of people who now require automated financial services.
Dodging work can be an art that benefits your business. However, you probably need some criteria to be successful. You might ask yourself which of your daily tasks are redundant or unnecessary. What activities or chores could you delegate to someone else? Are there processes or activities that are no longer valuable or enjoyable?
Often when we take the time to critically break down our days, weeks and months into tasks and time frames, we see inefficiencies and work that we should be dodging.
Procrastination is not uncommon in business and everyday life, and leaving tasks until the last possible minute can have some benefits:
feeling more focused when we actually start working on our task because we know we have no time left for distractions;
leaving tasks to the last minute provides a boost of energy as the fight or flight response sets in;
if we're prone to low stress (not sure this is possible in the current age), procrastinating can raise our stress level enough to ensure we get things done.
Procrastination adds stress to our already stress-filled lives when we don't set aside the appropriate amount of time to fulfil tasks and promises.
A better approach is to block our time and schedule projects to ensure we achieve our goals for the day, week or month.
I'm all in favour of procrastinating if it works for you.
And I can see dodging work that doesn't create value or doesn't support the needs of your organization, community or the world.
But we need to consider carefully if always taking the easiest route, laziest approach, or leaving things to the last minute, is the best possible approach to success.
Dave Fuller, MBA, is an award winning business coach and a partner in the firm Pivotleader Inc. Comments on business at this time? Email dave@pivotleader.com
---
The views, opinions and positions expressed by columnists and contributors are the author's alone. They do not inherently or expressly reflect the views, opinions and/or positions of our publication.