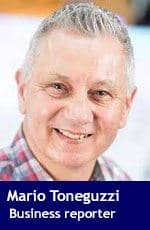 A new study by Statistics Canada says the face of the country's farming population has changed.
The 2016 Census of Agriculture found there were 187,492 agricultural businesses in Canada and an additional 6,000 hobby farms.
The federal agency said on Tuesday that "not only are farm families smaller than they once were, but they are more affluent, and fewer of them live in rural areas."
"Due to the increased automation, sophistication and size of agricultural operations, the sheer number of operations across Canada has been declining. So too has the farm population. In 1971, one in 14 Canadians was a member of the farm population. By 2016, that number had decreased to one in 58 Canadians. Overall, from 1971 to 2016, the farm population declined by 62.7 per cent to 592,975 persons," said StatsCan.
"With the advent of automation, the reliance of agricultural operations on manual labour has decreased over time. While decreasing birth rates have affected the size of the household, the reduction in demand for manual labour on agricultural operations may also have influenced the size of the farm household. In 1971, the average size of a farm household was 4.3 persons. By 2016, it had decreased 35.5 per cent to 2.8 persons. By comparison, the average household size for the total population in 1971 was 3.5 persons. By 2016, it had fallen by almost one-third to 2.4 persons.
"Not only are farm households smaller than before, their total household income is higher than households in the total population. In 1971, the total median income of farm households was 33.8 per cent lower than households within the total population, accounting for a median total income in 2015 constant dollars of $33,737. However, this pattern has changed. Taking a look at the past three census periods, total median income levels have been higher for farm households. In 2006, the median total income of farm households was $65,088, 2.6 per cent higher than total population households at $63,457. By 2016, the median total income of farm households was $82,456, 17.3 per cent higher than the total population median income of $70,275."
Statistics Canada said the farm population is gravitating towards farm types that produce higher household incomes.
"For example, in 2016, nearly one-third of the farm population reported an association with oilseed and grain farming. From 2006 to 2016, households who reported oilseed and grain farming saw their median total income increase by 41.2 per cent. One reason for this growth in household income could be due to oilseed and grain farming having one of the best national expense-to-receipt ratios from 2010 to 2015," explained the federal agency.
"Prices for oilseeds and grains peaked in 2012 and 2013, but have since decreased for the majority of crops. At the same time, the cost of inputs for this type of production has been increasing. As a result, this type of farming had a less favourable expense-to-receipt ratio in 2015 than in 2010.
After oilseed and grain farming, the most reported association by farm type within the farm population was beef cattle ranching and farming, including feedlots. In 2016, 17.5 per cent of the farm population reported an association with this farm type. Beef cattle ranching and farming, including feedlot households, reported a median total income of $78,411, or $8,136 higher than the median total income of the total population."
---

The views, opinions and positions expressed by columnists and contributors are the author's alone. They do not inherently or expressly reflect the views, opinions and/or positions of our publication.