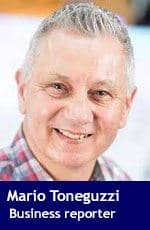 A new report released on Wednesday says there is a significant revenue gap between small business owners in Canada who are women and those who are men.
The report, by PayPal Canada and Barraza & Associates, said that on average women-owned businesses earn $68,000 less than men who run similar businesses. That's a 58 per cent gap in reported revenue.
"Across all small businesses in Canada, bridging the gap in earnings of women and men entrepreneurs could unlock an additional $88.2 billion in contribution to the Canadian economy," said the report, adding that e-commerce tools can help women entrepreneurs earn more.
"Supporting women entrepreneurs is critical to Canada's long-term economic prosperity," said Paul Parisi, president of PayPal Canada.
The report also found:
comparing the revenue of women and men entrepreneurs across all Canadian businesses that sell online via electronic invoice, an online marketplace, or an e-commerce enabled website, the revenue gap between women and men-owned businesses closes to 44 per cent;

women entrepreneurs using e-commerce tools report earning 75 per cent more revenue than their female peers who don't sell online;

Of online businesses launched in the past two years, 50 per cent are owned by women, while only 34 per cent of online businesses started 10 years ago are owned by women;

73 per cent of women entrepreneurs selling online highlight e-commerce as a factor for sustained growth and success;

85 per cent recognize that they need to sell their products and services online to keep pace with competition; in comparison, male entrepreneurs in this segment are less likely (60 per cent) to attribute e-commerce to their success, and only 74 per cent see selling online as a competitive advantage;

28 per cent of women-owned online businesses sell around the world and 61 per cent indicate that selling internationally has made their small business more successful;

83 per cent of women entrepreneurs leveraging e-commerce are less than 55-years-old, while 42 per cent of their male peers are 55-years-old and up.
"While e-commerce savvy women entrepreneurs are pulling all the right levers to position their businesses for success, research findings show limited access to capital is a critical barrier to growth. In fact, almost half (47 per cent) of women-owned businesses leveraging e-commerce have trouble securing the external investment they need to scale, whereas the majority (67 per cent) of men with online businesses find it easier. Without access to the right resources, most women business owners are left to support business growth through personal means of credit, adding unnecessary financial strain," said the report.
Respected business writer Mario Toneguzzi is a veteran Calgary-based journalist who worked for 35 years for the Calgary Herald in various capacities, including 12 years as a senior business writer.
---

The views, opinions and positions expressed by columnists and contributors are the author's alone. They do not inherently or expressly reflect the views, opinions and/or positions of our publication.
Calgary's Business is a Troy Media Digital Solutions Associate website