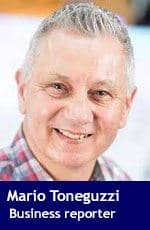 There was good news for the Canadian economy on Wednesday.
Statistics Canada reported that real gross domestic product rose for a seventh consecutive month, edging up 0.1 per cent in August as growth was concentrated in oil and gas extraction and finance and insurance, which more than offset declines in 12 of 20 industrial sectors.
"The mining, quarrying and oil and gas extraction sector posted the largest increase in activity in August, rising 0.9 per cent to nearly offset the declines in the two previous months," said the federal agency.
"The oil and gas extraction subsector was up 1.9 per cent, led by a 3.2 per cent rise in non-conventional oil extraction as crude bitumen and total crude production in Alberta reached record levels. Conventional oil and gas extraction (+0.8 per cent) was up for the third month in a row, largely as a result of growth in natural gas extraction.
"Mining and quarrying excluding oil and gas extraction was down 1.8 per cent in August following three months of growth. Metal ore mining fell 5.9 per cent as the majority of industries contracted. Contributing the most to the decline was a 13.7 per cent drop in copper, nickel, lead and zinc mining, with the industry's output contracting for the 11th time in 12 months as some producers continued to adjust their production levels. Mine output for copper and nickel for August was at its lowest level since the beginning of 2010. Non-metallic mineral mining rose 2.9 per cent as all industries expanded in August, led by an export-driven 3.4 per cent expansion in potash mining. Coal mining edged up 0.1 per cent."
StatsCan said support activities for mining and oil and gas extraction were down for a fourth consecutive month, contracting 3.8 per cent on lower activity by drilling and rigging services.
"On a year- over-year basis, GDP was up 2.5 per cent in August, led in part by a large gain in oil and gas extraction but also solid year-over-year growth in manufacturing and services output," said Nathan Janzen, senior economist with RBC.
"Indeed, business surveys are increasingly reporting that capacity constraints, not lack of demand, are the most pressing concern at the moment in much of the country.  Wage growth has lagged despite tight labour markets but rising business need for workers still means wage growth is more likely to strengthen than slow going forward. Yet interest rates are still very low.  Absent an unexpected shock to the economy, that backdrop leaves little reason for the Bank of Canada not to follow through with further gradual interest rate hikes."
Mario Toneguzzi is a veteran Calgary-based journalist who worked for 35 years for the Calgary Herald, including 12 years as a senior business writer.
---

The views, opinions and positions expressed by columnists and contributors are the author's alone. They do not inherently or expressly reflect the views, opinions and/or positions of our publication.