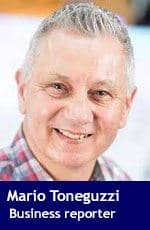 Alberta's minimum wage reached $15 an hour on Monday, increasing by $1.40. A new report by the Canadian Federation of Independent Business illustrates just how much it's going to cost.
The report said employers in the province are facing a $10,739 annual increase per entry-level, minimum-wage job compared to 2015 due to added wage costs and the higher payroll taxes (i.e. CPP, EI, WCB) that go along with it.
To highlight the cost, the CFIB said a small business with 10 minimum wage employees will see their annual costs rise by more than $107,000 as a result of the government's plan.
"Thanks to the government aggressively ratcheting up the legislated floor on wages, entry-level jobs have become much more costly for employers to create," said Amber Ruddy, Alberta director for the CFIB. "It's simple economics. When the cost of hiring suddenly gets a lot more expensive, there will be less of it. The government's plan has put current and future entry-level jobs at risk.
"Obviously, the rapid rise in minimum wage puts a big squeeze on small businesses that have entry-level positions. That means fewer opportunities for young people to get their foot in the door, and gain the valuable work and life experience that comes from having that first job. Perhaps worst of all, the aggressive march to a $15 minimum wage happened during the deepest recession in a generation, and yet the government didn't take its foot off the accelerator one bit."
The CFIB report estimates the rapid rise in the minimum wage to $15 an hour will cost private sector employers in the province an additional $284 million a year.
The debate over minimum wage is a heated one and a new report by Canadian public policy think-tank the Fraser Institute is sure to fuel the fire.
The study, Increasing the Minimum Wage in Alberta: A Flawed Anti-Poverty Policy, was released last week. It said raising the province's minimum wage will do little to reduce poverty because 92 per cent of minimum-wage earners in the province don't live in low-income households as defined by Statistics Canada's Low Income Cut-off.
"Increasing the minimum wage is a poorly targeted anti-poverty measure, given that most minimum wage earners don't live in low-income households. There are more effective strategies for helping the working poor," said Steve Lafleur, Fraser Institute senior policy analyst.
The Fraser Institute report found that 50.1 per cent of Alberta minimum-wage earners in 2017 were aged 15 to 24, and among this group, 85.1 per cent lived with their parents or other relatives. Only 2.1 per cent of all minimum-wage earners were single parents with young children.
According to the provincial government, about 254,000 Albertans – 11 per cent of all workers – earn less than $15 per hour. More than half of them work full-time and nearly 40 per cent are parents.
"Low-income earners should be able to support their families without having to visit the food bank. That's why we're changing Alberta's minimum wage to $15 on Oct. 1, 2018," says the government on its website. It adds that a higher minimum wage can help reduce poverty, lessen the burden on social support programs and improve the quality of life for vulnerable people.
"It can also improve employee satisfaction, which can help employers reduce staff turnover, recruitment and training expenses. Higher levels of employee satisfaction and productivity may improve profits and help expand business," it says.
"Recent studies in Canada and the U.S. show that gradual increases to the minimum wage do not have a negative effect on overall employment levels," the government says.
"Positive effects of raising minimum wage include increased consumer spending, better health outcomes and lower wage inequality, especially for women."
Mario Toneguzzi is a veteran Calgary-based journalist who worked for 35 years for the Calgary Herald, including 12 years as a senior business writer.
---

The views, opinions and positions expressed by columnists and contributors are the author's alone. They do not inherently or expressly reflect the views, opinions and/or positions of our publication.