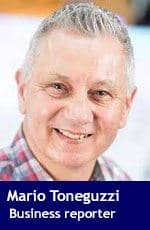 IKEA Canada announced on Friday that company sales of $2.39 billion across the country for the financial year ending Aug. 31 were an increase of eight per cent on the previous year.
It said it experienced "accelerated growth" online as web visitation on IKEA.ca jumped to 104 million customers, contributing to $241.5 million in e-commerce sales, an increase of 18.8 per cent.
"We've accomplished a lot in one year at IKEA Canada. We opened two new stores in Halifax and Quebec City, grew to 6,500 dedicated co-workers, introduced new ways to shop and strengthened our commitments to sustainability and diversity and inclusion," said Marsha Smith, president of IKEA Canada, in a statement.
"We are proud of our growth this year, but we know the retail landscape is changing faster than ever. As we look toward the future, we'll transform our business to create a more accessible and convenient shopping experience for our customers."
This year, IKEA grew to 14 stores from coast to coast with openings in Halifax and Quebec City.
It said in-store visitation grew to 30 million customers, an increase of 6.9 per cent, and food sales grew by 13 per cent to $102 million.
"To secure long-term growth, IKEA is transforming its business model, exploring new formats, optimizing its distribution networks and enhancing its digital tools and service offering. In 2018, IKEA opened CDC Vancouver – its first distribution facility in Western Canada. The company also invested in new ways to shop – including four new collection points in Ontario and Quebec – and expanded its service offer with the launch of TaskRabbit in-home assembly. To create a more flexible shopping experience, IKEA introduced a new 365-day return policy," said the company.
"With increasing urbanization, new technology and digitalization, these are exciting times of change for IKEA," said Smith. "As we build the IKEA of tomorrow, the driving vision of our late founder Ingvar Kamprad – to create a better everyday life for the many people – will continue to live on in everything we do."
IKEA Group has 357 stores in more than 29 countries, which are visited by 817 million people every year. It was founded in 1943.
Mario Toneguzzi is a veteran Calgary-based journalist who worked for 35 years for the Calgary Herald, including 12 years as a senior business writer.
---

The views, opinions and positions expressed by columnists and contributors are the author's alone. They do not inherently or expressly reflect the views, opinions and/or positions of our publication.