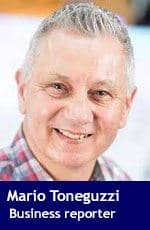 Failing to address the earnings gap among immigrants may be costing Canada $50 billion, or 2.5 per cent of gross domestic product, according to a new report by RBC Economics.
The Untapped Potential report says the immigrant wage gap isn't just a problem for immigrants. 
"It has a broader economic impact, in terms of not capturing the benefits of Canada's more-educated, immigrant-rich workforce. How much of an impact? Up to $50 billion, according to our calculations. That figure reflects the estimated overall cost of immigrants not being able to find work in their field, or not reaching wage parity even if employed in the field of one's choice," says the report.
"Given current federal plans for an increase in immigration levels, the cost is worth bearing in mind. Recent federal efforts to select those immigrants most likely to succeed in the labour market include the Express Entry program introduced in 2015, expanded use of the Provincial Nominee program, and expanded pre- and post-settlement services. While we still don't know if they have narrowed the wage gap, they have narrowed the employment gap, bringing immigrants' participation in the labour market almost to the level of the Canadian-born. We believe that's an important first step."
While Canada is drawing in some of the best and brightest, especially due to an increased focus on highly skilled, educated immigrants, our success in integrating those newcomers into the labour force falls short, at least on one key measure: earnings, explains the report. 
"Even as the balance of immigrants has shifted towards those with more skills and education, immigrants aren't being fully rewarded by the labour market for the attributes that got them accepted in the first place. They earn around 10 per cent less on average than Canadian-born peers. The immigrant wage gap is broad-based. And it's persistent: it has widened over three decades. That's a red flag for a country that already has the highest proportion of immigrants to total population in the G7," says RBC
"Immigrants make up 22 per cent of Canada's population now, a number that's expected to rise to 28 per cent by 2036. The immigrant wage gap is costly."
Some key findings from the report:
30 years ago the earnings gap was less than four per cent;

the immigrant earnings gap spans occupation, age, gender and region;

the immigrant earnings gap has worsened even as immigrants have become significantly more educated than the Canadian-born population;

the immigrant earnings gap for those with a university education aged 45-54 is about 18 per cent;

 only 38 per cent of university-educated immigrants aged 25-54 work in an occupation requiring a university degree, compared with 52 per cent of those born in Canada;

immigrants' tendency to work in lower-paid occupations relative to their education only accounts for about 40 per cent of the earnings gap; and

 the Canadian labour market appears to discount foreign labour market experience.
Mario Toneguzzi is a Troy Media business reporter based in Calgary.
---

The views, opinions and positions expressed by columnists and contributors are the author's alone. They do not inherently or expressly reflect the views, opinions and/or positions of our publication.