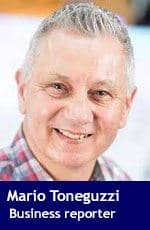 The winner of this year's Prairies EY Entrepreneur Of The Year 2018 is Linda McCurdy, Director, President and CEO of K-Bro Linen Systems Inc. – an international leader in laundry and linen processing for hospitality and health care clients.
McCurdy became CEO before the age of 30 and transformed K-Bro from a "sleepy privately owned and manually operated laundering and linen company into an international market leader," says EY.
Edmonton-based K-Bro has 15 locations across Canada, operations in the UK and plans for continued international expansion.
"Under Linda's leadership, K-Bro has re-defined industry expectations – from prioritizing sales and volume with a keen eye on reducing costs, to partnering with hospitals, health authorities and hospitality companies," says Rob Jolley, Entrepreneur Of The Year Prairies Program Director. "Linda's progressive vision and execution over the last 20 years has not only revolutionized K-Bro, but the entire health care and hospitality industry."
EY says K-Bro manages all aspects of the laundry processes for hospitals, providing specific value-added services including: access to K-Bro's inventory, delivering high quality laundered linens and handling each hospitals entire supply chain and cost management processes. That's translated into cost savings for hospitals between 15 per cent to 20 per cent.
McCurdy will compete with top entrepreneurs from the Pacific, Ontario, Quebec and Atlantic regions for the national honour of EY Entrepreneur Of The Year 2018 Canada, to be presented at a gala celebration November 29 in Toronto. In June 2019, Canada's EY Entrepreneur Of The Year 2018 will move to the world stage to compete with more than 50 country recipients for the title of EY World Entrepreneur Of The Year.
The EY Entrepreneur Of The Year 2018 Prairies category award recipients:
Agriculture & Environmental
McMillan-McGee Corp. | Calgary
Bruce McGee
Automotive & Transportation
CWS Logistics LTD. | Winnipeg
Shawn Bergen
Business-to-Business Products & Services
K-Bro Linen Systems Inc. | Edmonton
Linda McCurdy
Business-to-Consumer Products & Services
Fries Tallman Lumber Ltd. | Regina
Kevin Stricker
Emerging
MANTL Canada Inc. | Calgary
Matt Kenna
Energy
Frac Shack Inc. | Acheson
Todd Van Vliet
Food & Beverage
Fiasco Gelato | Calgary
James Boettcher
Professional Services
C-health | Calgary
Aly Nanji
Real Estate/Construction
Cameron Corporation | Edmonton
Jerry Naqvi, Tina Naqvi-Rota, Cam Naqvi, Henrietta Naqvi and Rose Naqvi-Parasynchuk
Technology
Helcim Inc. | Calgary
Nicolas Beique
Mario Toneguzzi is a veteran Calgary-based journalist who worked for 35 years for the Calgary Herald, including 12 years as a senior business writer.
---

The views, opinions and positions expressed by columnists and contributors are the author's alone. They do not inherently or expressly reflect the views, opinions and/or positions of our publication.