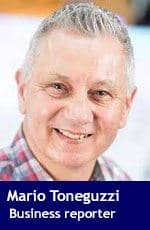 For a third consecutive month, manufacturing sales rose in Alberta, increasing 1.7 per cent to $6.6 billion in July, says Statistics Canada.
The federal agency reported on Tuesday that higher sales in the chemical products (+7.9 per cent) and electrical equipment, appliance and component (+49.9 per cent) industries were the main contributors to the dollar increase.
On an annual basis, sales were up by 13.7 per cent.
Across Canada, manufacturing sales also increased for the third consecutive month in July, rising 0.9 per cent to $58.6 billion. Higher sales in the transportation equipment and chemical industries drove the increase, said StatsCan.
"Overall, sales were up in 11 of 21 industries, representing 68 per cent of total manufacturing sales. Non-durable goods rose 1.4 per cent to $27.7 billion, while durable goods increased 0.5 per cent to $30.9 billion," it said.
"The gain in the transportation equipment industry accounted for more than half of the total increase in Canadian manufacturing sales in July. Sales in the industry were up 2.6 per cent to $10.9 billion, mostly as a result of gains in the motor vehicle and the railroad rolling stock industries. In July, scheduled shutdowns for some assembly plants were shorter than in previous years. Sales in the motor vehicle assembly industry rose 3.0 per cent to $5.4 billion, a second consecutive monthly increase. Sales in the railroad rolling stock industry were up 63.4 per cent to $275 million, following a 30.4 per cent decline in June. Sales in this industry tend to be volatile compared with transportation equipment as a whole."
Statistics Canada said total manufacturing inventories increased 1.2 per cent to $82.9 billion in July. The gains were led by higher inventories in the machinery (+3.0 per cent) and the petroleum and coal product (+3.5 per cent) industries.
Avery Shenfeld, an economist with CIBC Economics, said "the July data looked quite a bit better than what we saw for manufactured exports in the month, and came in a month with very mixed performance across subgroups, with only half of the industries reporting gains.
"Part of this might also be a seasonal issue, with fewer auto plants on seasonal shutdowns this year versus prior years. Note that U.S. auto sales have been tailing off, so autos, which accounted for more than half of this month's gain, could see a give-back in the months ahead. Still, the data give some upside to our Q3 GDP forecast, and underscore that the Bank of Canada is positioned to hike in October as long as NAFTA talks don't blow up," said Shenfeld in a commentary note.
Mario Toneguzzi is a veteran Calgary-based journalist who worked for 35 years for the Calgary Herald, including 12 years as a senior business writer.
---

The views, opinions and positions expressed by columnists and contributors are the author's alone. They do not inherently or expressly reflect the views, opinions and/or positions of our publication.