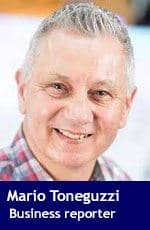 Add TD Economics to the growing list of experts calling for moderate economic growth in Alberta this year and in the near future.
In its latest Provincial Economic Forecast, the bank said the province's economy is set to record a sharp moderation this year after tallying an impressive rebound in activity in 2017.
Last year, Alberta led the country with a five per cent annual growth rate in real gross domestic product.
But real GDP in the province is expected to rise 2.4 per cent this year, 2.3 per cent in 2019 and 2.0 in 2020. Employment growth is forecast to grow by 1.8 per cent, 1.4 per cent and 1.5 per cent in those three years.
"This year-over-year swing can be partly chalked up to reconstruction efforts following the wildfires, which inflated last year's turnout, while unplanned outages in the oil sector have weighed on the 2018 showing," said the report. "Looking through these distortions, the theme remains one of a gradual recovery from the 2015-16 recession. By 2020, the unemployment rate is expected to fall to sub-six per cent, a level more in line with our estimate of full employment.
"Prospects for continued steady growth in oil production remain favourable, supported by the ramp up of production from oil sands projects completed over the past few years. A lack of market access remains a significant medium-term challenge, with the recent rejection of the Trans Mountain pipeline project by the Federal Court of Appeal likely to delay completion of that project by at least a year. Some near term relief to producers is likely with the completion of the Line 3 pipeline project in 2019. In the meantime, already record-high crude-by-rail shipments could push even higher as producers are forced to seek the costlier alternative."
The report said prospects in other areas of the energy sector have brightened. Investment in energy has been gravitating to higher value-added conventional oil, including pentanes and condensates, it said.
"Reinforcing this trend is a recent push by the provincial government to expand petrochemical investments through its petrochemical diversification program. Manufacturing intentions for chemicals and petroleum products have also surged on a year-over-year basis," said TD.
"Although employment has surpassed its 2014 peak level, the job market up-turn has been centred around self-employment. More favourably, interprovincial in-migration flows have moved into positive territory for three consecutive quarters, a trend that we expect will continue to gain traction. Further optimism has been seen in reductions in EI claims and rising average wages, which should translate into higher consumer spending. Despite a gradually brightening demand picture, Alberta's major residential and commercial real estate markets still face some notable headwinds, including excess supply and rising borrowing rates. As such, any recovery in this segment of the economy is expected to slow."
Mario Toneguzzi is a veteran Calgary-based journalist who worked for 35 years for the Calgary Herald, including 12 years as a senior business writer.
---

The views, opinions and positions expressed by columnists and contributors are the author's alone. They do not inherently or expressly reflect the views, opinions and/or positions of our publication.