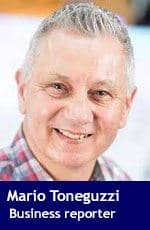 The University of Calgary's Faculty of Veterinary Medicine has received a massive donation to help it create a world-class teaching, learning and research facility in Alberta.
The U of C announced on Friday it was receiving a gift of a 19,000-acre cattle ranch operation, valued at $44 million from J.C. Anderson and his daughter Wynne Chisholm.
The school said the new W.A. Ranches, just west of Calgary, will establish the faculty as an international leader in veterinary health, education, research and community outreach, meeting the needs of Alberta's veterinary community and Canada's livestock industry.
"This gift will advance the leadership of our Faculty of Veterinary Medicine even further, providing a unique opportunity for our students to engage in immersive learning, develop their professional skills and make the connections between human, animal and environmental health," said U of C president Elizabeth Cannon, in a news release.
"W.A. Ranches at the University of Calgary is a sophisticated operation that will attract top talent to our campus and support the next generation of veterinary leaders."
In 2014, Anderson and Chisholm donated $5 million to the school to establish the Anderson-Chisholm Chair in Animal Care and Welfare, currently held by Dr. Ed Pajor.
"We are gifting the assets of our ranch to the University of Calgary to create a world leading centre of excellence in beef cattle research," said Chisholm, in a news release. "Our hope is that this gift will transform the teaching, learning and outreach experiences at UCVM, and empower faculty and students to create and share the scientific, evidence based discoveries that will improve animal care and welfare, enhance our industry, and inform the public."
Dr. Baljit Singh, dean of the Faculty of Veterinary Medicine, said the gift of a cattle ranch of this size and calibre offers unprecedented educational opportunities for the school.
"The ranch will provide a platform for collaboration with other faculties, industry and the public sector to foster interdisciplinary learning and research, and the development of an international centre of excellence in beef cattle health."
Mario Toneguzzi is a veteran Calgary-based journalist who worked for 35 years for the Calgary Herald, including 12 years as a senior business writer.
---

The views, opinions and positions expressed by columnists and contributors are the author's alone. They do not inherently or expressly reflect the views, opinions and/or positions of our publication.