Tim McMillan is president and CEO of the Canadian Association of Petroleum Producers.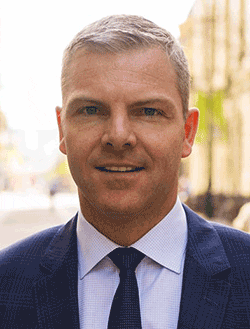 Calgary's Business: How would you describe the state of the oil and gas industry right now?
McMillan: We're at a crucial point in Canada right now. Oil prices have recovered but the Canadian industry is not rebounding as fast as other oil and natural gas producing jurisdictions.
Competition for capital investment in the global market is fierce and if Canada wants its industry to be a major player internationally, a number of factors need to be considered.
We have the resources, the expertise and the capacity to be a global leader in oil and natural gas development. Global demand for our products is growing and if we want to meet that demand, we must see policy changes in Canada that encourage growth.
CB: What are the biggest challenges it continues to face?
McMillan: Government-imposed costs and regulatory complexity are on the rise, making it hard to grow our industry and create jobs for Canadians. We need to attract investment, spur innovation and grow jobs to fuel economic benefits. There's an urgent need to stop the flow of capital to jurisdictions outside Canada.
Market access is key – we need to broaden our customer base and get our oil and natural gas to countries with growing demand and an appetite for our strong environmental performance.
A great example is liquefied natural gas (LNG). The next window of opportunity to participate in this global market is coming and we need to seize the opportunity to get a Canadian LNG industry up and running.
In the meantime, there are too many opportunities being left on the table while policies and regulations are sorted out.
We're asking for a co-ordinated effort between industry, government and the public to create an effective policy and regulatory environment that encourages investment in Canada's oil and natural gas industry, ensuring those resources are produced responsibly.
CB: Can you describe the overall importance of the industry to the Canadian economy?
McMillan: Canada is the fifth largest producer of natural gas and sixth largest producer of oil in the world, so the impact to the Canadian economy is significant. In 2017, the oil and natural gas industry contributed $109 billion to the Canadian economy – that's in direct, real gross domestic product. That's more than six per cent of Canada's total GDP. We directly employ more than half a million people and about 200,000 more are employed in the service sector.
When it comes to the money we transfer to government in the form of taxes and royalties, we're showing an average annual revenue of $12 billion between the years 2014 and 2016.
This is what's at stake when we see capital investment and energy industry jobs flowing to countries with lower taxes and less regulation, such as the U.S. It's essentially a wealth transfer to regions with lower environmental standards.
CB: How is technology impacting the industry these days?
McMillan: We are a technology-driven industry and have invested significantly in technology that breaks the link between energy growth and emissions growth. Canada's Oil Sands Innovation Alliance (COSIA) was launched six years ago to improve measurement, accountability and environmental performance in four priority areas: greenhouse gas (GHG) emissions, land, water and tailings. Since then, member companies have shared more than 980 distinct technologies and innovations that cost more than $1.4 billion to develop.
In the oil sands, we're seeing a lot of promise in steam-reduction technologies – using injected hydrocarbons to reduce GHG emissions as part of extraction. Same thing with partial upgrading, which is aimed at reducing or eliminating the need to dilute bitumen to make it suitable for pipeline transport. Emissions reduction from partial upgrading can range from five to 12 per cent from existing wells-to-refinery bitumen emissions.
Carbon capture and storage (CCS) – capturing emissions and storing it permanently underground – is a significant line of inquiry for us with some notable results. The Shell Scotford Quest CCS facility has captured and safely stored two millions tonnes of CO2 since startup in 2015.
CB: How critical is it for Canada to ensure pipeline capacity is increased?
McMillan: There's never been a more important time to diversify our markets and cultivate customers for our products outside the U.S. The current trade dispute and those economic headwinds highlight the problem with leaving more than $15 billion on the table each year, according to Scotiabank, due to lack of pipelines and the discount for Canadian oil.
The International Energy Agency shows a growth in demand for both oil and natural gas over the next 20 years, so it's an opportune time for us to capture new markets. If we don't, someone else will, likely producing products at much lower environmental and social performance standards.
– Mario Toneguzzi
Respected business writer Mario Toneguzzi is a veteran Calgary-based journalist who worked for 35 years for the Calgary Herald in various capacities, including 12 years as a senior business writer.
---

The views, opinions and positions expressed by columnists and contributors are the author's alone. They do not inherently or expressly reflect the views, opinions and/or positions of our publication.
Calgary's Business is a Troy Media Digital Solutions Associate website