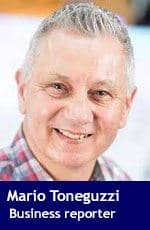 The level of greenhouse gas emissions from Canadian oil sands production is falling.
A new report by research firm IHS Markit says the emissions intensity of upstream Canadian oil sands production will continue to decline in coming years, falling to 30 per cent below 2009 levels by 2030.
"The Canadian oil sands have a demonstrated track record of lowering emissions intensity," said Kevin Birn, executive director, IHS Markit, who heads the Oil Sands Dialogue. "This study shows that trend will continue into the future with additional reductions expected across the major forms of oil sands production.
"This report could very well be a conservative estimate. We intentionally excluded any transformational technologies under development in the oil sands and only factored for the deployment of commercial or near-commercial technologies or efficiencies, only existing trends.
"Oil sands facilities are diverse and so are their emissions. A focus solely upon the average may lead to over generalizations and may not represent the reality of any one individual operation. There are some operations today that appear to be at or near the U.S. average already."
The report, Greenhouse Gas Intensity of Oil Sands Production: Today and In the Future, found that over the last near-decade (2009-2017), upstream oil sands GHG emissions intensity (GHG per barrel produced) fell 21 per cent and could fall by an additional 16 to 23 per cent over the coming decade.
From 2009-2017, oil sands mining operations were the primary source of upstream emissions reductions. The average intensity of oil sands mining operations fell 26 per cent on a marketed product basis during this time, a result of historical improvements and the introduction of newer, less-GHG intensive mining operations, the report said. Improvements are expected to continue, with an additional 15 to 20 per cent reduction between 2017-2030, it added.
"Steam-assisted gravity drainage (SAGD) – the production method expected to account for three-quarters of oil sands growth to 2030 – will also be a key driver of the future GHG intensity declines," said the report.
"SAGD emissions are expected to fall 17 to 27 per cent during the 2017-2030 period. Lower steam intensity arising from steam displacement technologies, as well as better use of natural gas from improvements in well productivity and steam generation, are key contributors to the IHS Markit outlook."
Mario Toneguzzi is a veteran Calgary-based journalist who worked for 35 years for the Calgary Herald, including 12 years as a senior business writer.
---

The views, opinions and positions expressed by columnists and contributors are the author's alone. They do not inherently or expressly reflect the views, opinions and/or positions of our publication.