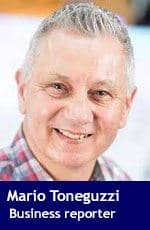 The volume of rail freight carried in Canada totalled 33.1 million tonnes in August, up 7.7 per cent  from the same month a year earlier, according to Statistics Canada.
The federal agency reports that freight originating in Canada rose 7.7 per cent year over year to 29.6 million tonnes in August.
"Non-intermodal freight increased by 9.9 per cent to 322,000 carloads. The amount of freight loaded into these cars rose 9.0 per cent from August 2017 to 26.5 million tonnes," it said.
"In August, the commodities with the largest year-over-year increase in tonnage were fuel oils and crude petroleum (667 000 tonnes or +64.6 per cent), iron ores and concentrates (667,000 tonnes or +15.1 per cent), potash (287,000 tonnes or +16.8 per cent), other cereal grains (133,000 tonnes or +45.5 per cent) and canola (109,000 tonnes or +32.6 per cent)."
StatsCan said tonnages declined for nickel ores and concentrates (-89,000 tonnes or -83.2 per cent), fertilizers (excluding potash) (-77,000 tonnes or -21.9 per cent), and wood pulp (-72,000 tonnes or -10.4 per cent).
"Intermodal freight loadings rose 0.1 per cent from August 2017 to 215,000 units. In terms of weight, intermodal traffic declined 2.3 per cent to 3.1 million tonnes. Freight traffic received from the United States rose 8.0 per cent to 3.5 million tonnes as a result of a 7.2 per cent increase in non-intermodal freight."
Mario Toneguzzi is a veteran Calgary-based journalist who worked for 35 years for the Calgary Herald, including 12 years as a senior business writer.
---

The views, opinions and positions expressed by columnists and contributors are the author's alone. They do not inherently or expressly reflect the views, opinions and/or positions of our publication.