Elton Ash is regional executive vice-president at RE/MAX of Western Canada.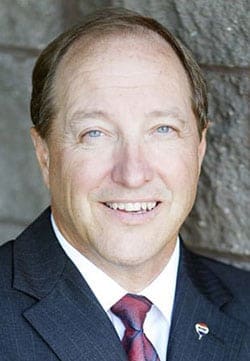 Calgary's Business: What impact has the mortgage stress test had on housing markets in Western Canada this year?
Ash: The B-20 stress test has definitely slowed the real estate residential markets across Canada. It was introduced by the federal government and came into effect on Jan. 1 of this year as a reaction to ever-increasing Canadian consumer debt and to slow the real estate markets in Canada's two hottest markets, Toronto and Vancouver.
Unfortunately, in cities such as Calgary and Edmonton, the unintended consequences were that it put the brakes on what was a slowly-improving market. The problem with universal or national housing policy is that often a government reacts in a way that might be good in one area of the country but can be devastating in another. Home prices in Calgary, the Prairie provinces, and overall sales volumes are feeling the effects of a lingering resource sector sluggishness.
CB: Has housing become too unaffordable for too many people?
Ash: Housing affordability is a real issue across North America. Certainly, there are cities – Toronto and Vancouver – where it's very difficult, some might even say impossible for young families to buy their first home.
The good news for buyers in Calgary is that home prices haven't reached the dizzying heights of Vancouver. Coupled with a sluggish Alberta economy and steadying prices, affordability isn't paralyzing for the first-time and move-up buyer.
CB: What demographic is driving the market these days?
Ash: You know that really depends on the market segment and the city or area of the country. Baby boomers continue to drive much of the market trends in all segments and areas. But we do see millennials starting to flex their population muscles. Most estimates put the overall millennial cohort around 10 million more than the boomers.
Naturally, affordability is a huge issue with these young families. Just like their parents and grandparents before them, as they start to have children, they look away from the urban environment to the suburbs to raise their families, where housing is more in their price range.
The boomers are the wealthiest demographic ever. We're beginning to see that wealth transfer to the millennials. As time goes on, we'll see them affect market cycles in all sectors like nothing we've seen in the past.
CB: What can governments do to encourage and support the housing market?
Ash: My first reaction: stay the heck out of it. But that is unrealistic. Affordability is a huge issue. Ultimately, there's nothing any single government can do other than provide a band-aid solution when surgery is required.
All three levels of government must be involved in a more encompassing and pragmatic view of how to bring about housing policy that encourages and supports Canadian home ownership. Municipalities or cities must look at what they can do with zoning and red tape bureaucracy on approving development, in concert with provinces as they look at tax incentives and social programs. In concert, the federal government must continue to look at mortgage regulations and federal tax programs as well as social implications. They all really need to get on the same page.
But ultimately, housing and prices are cyclical in nature. I've been involved in real estate for nearly 40 years. Over that time, I've witnessed several booms and busts. Our recorded world history has always experienced these cycles. We just need consistent application of policy and regulation, so everyone knows the playing field.
CB: What's your opinion on how the housing markets will perform as we head into the fall?
Ash: We're in for a steady market across the country, including Alberta. Families are becoming accustomed to the stricter lending criteria and many have now come to grips with lowering their expectations.
I think we're headed towards a healthier, more balanced market through to the first half of 2019.
Calgary is in the best situation of all the Canadian cities. We will see the oil patch begin to grow again. Homes are more affordable. And the lifestyle is fabulous.
– Mario Toneguzzi
---

The views, opinions and positions expressed by columnists and contributors are the author's alone. They do not inherently or expressly reflect the views, opinions and/or positions of our publication.