Janet Segato is dean of the School of Business at the Southern Alberta Institute of Technology.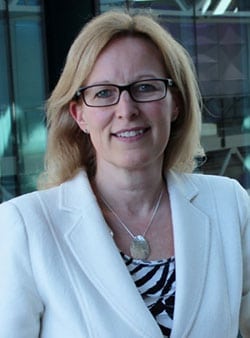 Calgary's Business: What's new for the School of Business this year?
Segato: It's going to be an exciting year at SAIT as our momentum continues. The work we're doing at the SAIT School of Business has a singular focus – setting our students up for success for meaningful and long-lasting careers. In June, there were graduates across all six majors of the newly-expanded Bachelor of Business Administration degree at the SAIT School of Business – we're very proud of our graduates and look forward to their future success.
Moving forward, we've seen growth in our partnerships with corporate Calgary and non-profit groups as we continue to deliver applied education in leadership, project management and innovation.
This growth is punctuated with the second year of our dean's advisory board – Calgary business leaders who provide insight and guidance into our programs and the changing world of work, access to Bloomberg Education and we are excited to have entrepreneur Shashi Behl join us as executive in residence.
CB: How is SAIT different than the other business schools in the city?
Segato: SAIT is a global leader in applied education and this experience starts on day one. That style of learning is what sets us apart – from business simulations and industry-based class projects to practicums and capstone courses that integrate learning from all courses into an integrated capstone project.
Students regularly work in teams with the goal of having them build their human skills: collaboration, managing conflict well, communication, teamwork and creative thinking.
Additionally, our faculty of industry professionals bring current and relevant industry knowledge and connections into the classroom and our program advisory committees provide relevant perspective on industry and upcoming changes – both of which enable us to be nimble in the delivery of our programs.
It's because of those connections that our students are, in turn, able to make meaningful connections with industry throughout their time at SAIT. In fact, we're making connections even before a student comes to SAIT full time. Our Introduction to Business course is offered as a dual credit course with several Alberta school boards.
And finally, our continuing education, professional and leadership programs are embedded within the School of Business so our learners benefit from faculty collaboration and curriculum shared across delivery methods.
CB: How many students attend your business school and how does that number relate to previous years?
Segato: There are more than 4,000 students studying in credit degree and diploma programs and another 10,000-plus taking classes with us in professional and leadership programs. We've seen growth of more than 1,000 students over the last five years with the expansion of the BBA program and an increase in the number of students admitted in our high-demand legal assistant diploma program.
CB: What are the most popular business courses at the school?
Segato: Supply chain, finance, accounting and legal courses are always in high demand in our diploma and degree programs, and we have a newly-updated digital marketing certificate. Also, our applied management and leadership training courses are in demand and have frequent offerings of face-to-face and online to meet learner needs.
CB: How did the recession of 2015 and 2016 impact the school?
Segato: Most of our students come to us focused on getting a job when they're finished and launching their career. The recession brings this focus to the forefront.
We've also seen how people react to the business climate during a recession and the way education fits into that reaction. People who may not be finding work look to enhance their skills and return to school full time or part time. Ninety-one per cent of our graduates are employed.
– Mario Toneguzzi
---
The views, opinions and positions expressed by columnists and contributors are the author's alone. They do not inherently or expressly reflect the views, opinions and/or positions of our publication.